When Matt Johnson got laid off during 2020 due to the pandemic, he took the ultimate leap of faith. He started his own company, Legacy Concrete, which offers customers everything from driveways and walkways to decorative features.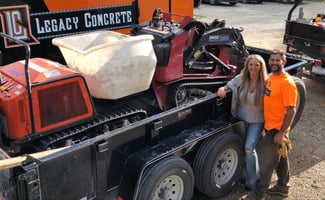 "A lot of people thought I was crazy," Matt laughed, "but I'd already been doing this kind of work for 40 years."
With Matt's wife, Shannon, handling the administrative side of the business, Legacy Concrete slowly gathered customers and established itself. There was just one problem—they were renting their heavy equipment.
"We were spending $1000 a week on rentals," Shannon said.
Renting was also inconvenient.
"I'd have to travel to the rental site before I went to the job," Matt recalls. "Sometimes the equipment wasn't even available when we needed it, so I'd have to call renters in other towns to see if they had it or work on a different job than I had planned."
Owning their own heavy equipment was the obvious next step for the company. However, thanks to struggles with credit in their past, they were having issues finding a bank that would work with them. "We worked hard and got our credit up, but I still think people counted us out," Matt said.
That's when they reached out to First Alliance Credit Union.
"I actually originally had my vehicle loan through First Alliance Credit Union," Shannon confided. "We were having so many issues renting, and Matt finally said, 'Why don't we just talk to First Alliance and see what they have to offer for businesses?'"
At first, Shannon was resistant, since they already had a business account at another bank. However, she changed her mind as soon as she talked to First Alliance business lending advisor Rosalina Cornish.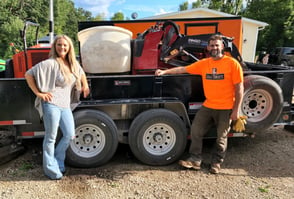 "She has been absolutely amazing to work with," Shannon exclaimed. "After talking with her for a month, I bit the bullet and emailed Rosalina about getting a business equipment loan, and we got the loan the next day. It was so fast!"
With their business equipment loan approved, Matt and Shannon were able to get some essential pieces of heavy equipment for their business, and even get a third truck for their company's burgeoning fleet of vehicles.
"It was crucial to get this equipment," Matt revealed. "It's saved us a ton of time and money--almost $4,000 a month. Even better, it's also saving my crew's bodies. When you have the right equipment to get behind houses and on the side of hills it just makes the job go smoother. Having that machinery has been a godsend, and it's taken our company to the next level."
Both Shannon and Matt recommend First Alliance Credit Union to any other business owners looking to build up their company. "I'm so glad we switched because it's made life a whole lot easier," Shannon said.
Apply for a First Alliance business loan today!
Watch the First Alliance Interview With Legacy Concrete