The winter holidays are supposed to be a time of relaxation and hanging out with friends and family, but let's be honest—the weeks leading up to the holidays can be stressful. This is due in no small part to the fact that holidays are expensive. According to one study, the American shopper spent about $1,455 during the 2022 holiday season, and thanks to inflation, that amount is likely to increase.
If you're stressing out about how you'll pay for the holidays this year, one thing that can help you is creating a holiday budget. It's a great way to get your holiday spending under control and get some peace of mind that will last you all the way until January 1. If you want to get the full benefit of a holiday budget, follow these five tips to get started.
Here's how to create a holiday budget

Understanding the Importance of a Holiday Budget
Before you go through the trouble of creating a holiday budget, though, you need to understand why creating a holiday budget is so beneficial. How will listing your holiday expenses do anything besides raise your blood pressure?
The truth is that when you set a holiday budget, you get to figure out exactly what you'll be spending for the holidays. You get to prioritize which expenses are the most important to you and avoid overspending. If you start early enough, you can even put together a savings plan to help you afford all the holiday expenses without straining your credit card.
Perhaps the biggest benefit of a holiday budget, though, is that it gives you some much-needed peace of mind. When you have a clear picture of all your expenses, you won't be stressed about what you will and won't be able to afford over the holiday season. You can even factor in some money for unexpected expenses to ensure you won't be caught off guard.
Tip #1: Start Making Your Holiday Budget Early
The earlier you create a holiday budget, the more benefits you'll get. Quite possibly the biggest benefit is being able to spread out the cost of the holidays over more paychecks. This means you'll feel less financial strain the closer you get to the end of the year.
However, creating a holiday budget earlier also gives you more time to research the best deals and prices. You'll have some breathing room to see what more stores have to offer, and you'll boost your chances of getting a better price, and perhaps even finding sales and discounts. This can be especially important if you'll be doing some holiday travel, since the earlier you book, the better price you tend to get on items like airline tickets and hotel reservations.
Importance of Saving Early
Saving money early is crucial for a stress-free holiday season. The earlier you start, the more time you have to accumulate savings, reducing the financial burden of the holiday season. Moreover, saving early allows you to take advantage of holiday sales and promotions, maximizing the value of your budget. By saving money in advance, you can also avoid relying on credit cards or loans, so you won't have to spend the post-holiday season digging yourself out of debt.
Open a First Alliance savings account for your holiday funds today!
Tip #2: Create Holiday Budget Spending Categories That fit Your Life
It's common knowledge that the core of any budget is its categories. For holiday budgets, these categories can include:
Holiday gifts
Travel
Decorations
Clothing
Groceries
Events
Charities
However, you'll also want to add and subtract categories to take into account expenses that fit your holiday plans. If you're planning to go on vacation for Christmas, you'll want to include expenses like eating out and hotels in your budget. On the other hand, if your family doesn't really celebrate Christmas but you still enjoy getting together, you might want to get rid of the categories that revolve around decorating, but still keep categories that might be more appropriate for a family get-together.
How much should I save for each category?
Once you've determined what your holiday budget categories are, you need to figure out how much money you want to spend in each category. Unfortunately, there's no one good way to determine this. However, there are some strategies that can help.
Estimating holiday expenses
If you've never created a holiday budget before, this is a good way to get started. For instance, you can plan to spend $40 per person on gifts, $80 on groceries for a Christmas dinner, $400 for an airplane ticket to see your family in Cleveland and so on. You can use your experience from holidays past to help you figure out how much you'll need to spend.
Using the previous year's spending as a guide
One of the advantages of living in a cashless society is that you can see records of your previous transactions. If you rely on Amazon for most of your gift-shopping, for instance, you can look through your past orders to figure out how much you spent on gifts. You can also look through previous credit card statements to see what you spent on travel and hotel rooms, among other expenses. This takes a little work, but once you get that information you'll be able to use it as a guide for this year's spending.
Research expenses
You can also do some research online to get a more accurate estimate of how much you plan to spend. You can:
Research airline prices
Estimate how much gas you'll use traveling
Search for hotel prices
Look up ticket prices for holiday events
Go to grocery store websites and look at what they charge for food
This will take the most time, but you'll probably get the most accurate estimates.
Tip #3: Figure out how to Fund Your Holiday Budget
Once you've created your holiday budget, you'll know how much money you'll need for all your holiday expenses. All you have to do now is figure out where the money is coming from.
Make a SMART Goal
So you've got an amount of money you need to have saved, as well as a date when you need that money. In other words, you have a financial goal, and the best way to reach any financial goal is by making it SMART. In other words, make sure your goal is:
Specific
Measurable
Attainable
Realistic
Time-Bound
You know when you'll need the money and how much you need, so you already have the Time-bound and Specific aspects taken care of. You even have the Realistic part of the goal taken care of, since celebrating the holidays is probably something you'd like to do.
All that's left is to figure out how much money you can set aside to reach your savings goal, and where that money will be coming from.
Make room in your budget
One way to figure out where the money for your holiday spending will come from is to look through your monthly budget and find some extra money to put toward your holiday goals. Some ideas include:
Turning the thermostat down one degree
Cutting back on entertainment expenses
Buying groceries instead of going out to eat
Not buying coffee during your morning commute
Where to store the money you've saved for the holidays
Where will you put the money you're saving for the holidays? If you're like most people, you'll put the money in a traditional savings account. That's rarely a bad choice, but there are other options available.
If you start early enough, you can open a holiday club savings account. You can put money into this account throughout the year, and at a preset date the money will be deposited into your checking account.
Another good holiday savings option is putting your money in a certificate of deposit that will mature for the holiday season. You'll get a higher rate of interest, and you won't be tempted to spend that money on anything except your holiday spending.
You might also see if you can put your money in a money market account. These accounts do have a higher minimum deposit requirement, but in return you'll get a better interest rate, which means you'll have more money available for the holidays.
Using credit cards
If you make a SMART goal and realize you won't be able to save up enough money in time for the holidays, you might have to use a credit card. There's nothing unusual about that—in 2022, one third of Americans put 90% of their holiday shopping expenses on credit cards. However, you need to be aware of how you're using the credit card—and have a plan in place to pay it off.
You may also want to consider using a rewards credit card, like First Alliance's uChoose Rewards Credit Card to do your holiday shopping. That way, you'll recoup at least some of your expenses.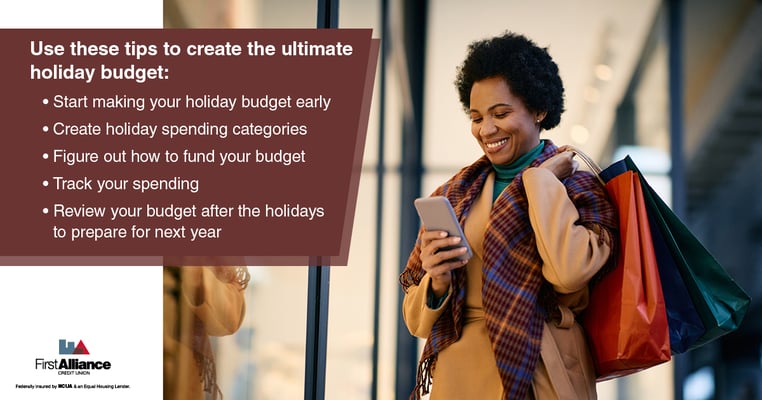 Tip #4: Track Your Holiday Budget Spending
While a holiday budget will let you know how much you've planned to spend, it won't automatically control your spending. You'll need to keep track of your holiday spending to make sure you're not overspending. You can make sure you're staying on track with strategies such as:
Using a separate credit card for holiday spending
Keeping your holiday money in a dedicated bank account
Tracking each purchase in a ledger or budgeting app
Tip #5: Evaluate your budget after the holidays
After the holiday season is over and the chaos has died down to manageable levels, it's time to evaluate your spending and make adjustments for next year. Figure out any areas in which you overspent, areas where you didn't spend as much as you planned and determine how much you had to spend beyond what you had planned.
Remember, though, the reason you're doing this is not to beat yourself up because you overspent or because you didn't anticipate an expense. You're reviewing your holiday budget to prepare for next year's winter holidays.
Now that you know how much you'll need to have set aside in 12 months, you can put together a savings plan that draws a little from each of your paychecks, so you won't be nearly as stressed as you would if you started saving in November or December.
Got questions about how to save for the holidays? Ask us!
Plan for the Holidays With First Alliance Credit Union
If you're worried about keeping holiday costs under control, a holiday budget can be your best friend. Start as early as you can, come up with holiday budget categories that fit your life and track your holiday purchases to make sure you don't overspend. Once the holidays are over, you can review your holiday budget to get prepared for next year.
If you need help saving for events like holidays, become a member of First Alliance Credit Union today. You can use our free downloadable SMART goal planner to help you save for the holidays and keep your holiday savings in a traditional savings account, money market account or club account. You can even use our uChoose rewards credit card to help you fund your holiday spending.
What are your lifehacks to help pay for the holidays? Let us know on Facebook!