First Alliance Credit Union and Intercultural Mutual Assistance Association (IMAA) have partnered to create a broadband community access fund, as a part of IMAA's Whole Family Systems Grant. The Whole Family Systems grant provides laptops and culturally appropriate tech support to access both work and school to families in the community.

According to Armin Budimlic, Executive Director of IMAA, "Many families in the community simply do not have access to broadband or cannot afford the monthly cost for broadband. Limited or no access for broadband service makes it impossible to be successful in school, at work or accessing vital support services for families."

First Alliance Credit Union contributed $10,000 to the fund, which will be administered by IMAA, which will pay for broadband access for individuals and families in the program. First Alliance will also provide financial education to the individuals and families being served, to assist them with finding ways to incorporate the monthly cost for broadband into their budgets.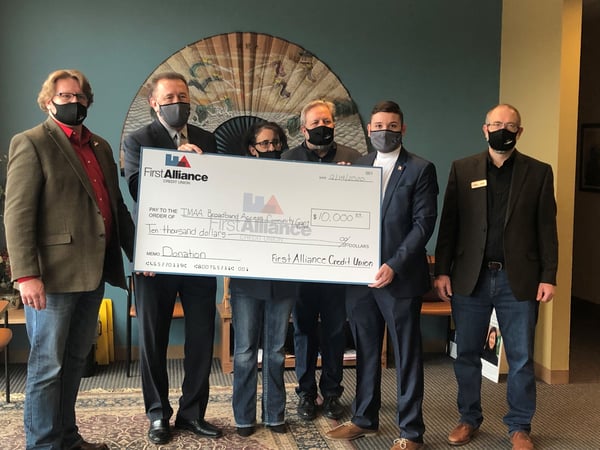 Michael Rosek, President/CEO of First Alliance Credit Union noted, "At First Alliance, we believe in ensuring the financial success of all community members, which starts with access to a quality education and work, regardless of your background. Our contribution to the grant fund is our commitment to helping build a stronger community through equitable access to important resources."

The goal for the Broadband Community Access fund is to actively seek community partners to contribute to the fund to make it sustainable for years to come.
About First Alliance Credit Union
First Alliance Credit Union is the original credit union in Rochester, Minnesota, founded in 1932 by Rochester firefighters and a school teacher. Membership is open to everyone who lives, works, worships, owns a business or attends school in Olmsted, Winona, Wabasha, Dodge and Goodhue counties.

About IMAA
Intercultural Mutual Assistance Association fosters the well-being and independence of refugees and immigrants who have resettled in the Rochester and surrounding areas through its programs including victim services, employment, community health worker, interpretation, and translation.