Everyone knows that the holidays are expensive, and one of the biggest expenses is buying gifts for everyone. You don't just want to buy any old gift, though. You want to buy a nice gift for someone, something that lets the recipient know they're important to you.
The problem is that quality gifts are rarely cheap, which leads to a dilemma. How do you get some meaningful gifts for the people around you without digging yourself into debt?
Set a Holiday Spending Limit
Before you buy any gifts, your first step should be to come up with a limit on what you'll spend on gifts this holiday season. Some people might feel weird about doing this, since they don't want to come off as cheap. If you do feel weird, remember—making your friends and family happy during the holidays shouldn't come at the expense of your well-being, emotionally or financially.
What your limit is will obviously be determined by how much you make. Some financial experts suggest setting aside 5% of your annual income for holiday gifts, while others recommend spending between $50 and $100 on gifts for family members and spending $20 to $50 on friends and coworkers.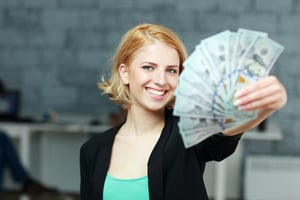 What you might want to do is list everyone you want to buy gifts for, list how much you plan to spend for each person and add those numbers up to get a total. From there, you can determine if you're comfortable spending that amount, if you want to cut back or even if you'd like to spend a bit more.
Once you've arrived at your limit, though, make sure you stick to it. Keep track of your spending, either by recording your credit and debit card purchases or by using a Christmas club savings account
Got questions about planning for holiday spending? Ask us!
Prioritize "Experience" Holiday Gifts
Gifts can be more than just things. Some of the most memorable gifts can be experiences, especially experiences you share. For instance, you could:
Go cross-country skiing
Get a private group lesson
Attend a sports game
See a play
Any one of these can be a fantastic gift. You might want to reserve some money for something small, though, so they have something to do while they're waiting for the gift to arrive.
Give Homemade Gifts
A homemade gift has a personal touch that store-bought gifts lack. They also tend to cost less. Some fun homemade gifts include:
Knitted hats, socks and mittens
Salt scrubs
Holiday snacks, like cookies and fudge
Decorations
While some people might shy away from homemade gifts because they don't want them to be shoddy, the truth is that you can do some amazing DIY gifts if you're willing to invest the time and effort. As a bonus, you might even pick up a new skill or hobby that you can turn into a side hustle.
Buy Gifts That are Everyday Essentials
There's a reason why big box stores have gift boxes full of soaps, shampoos and fragrances for almost anyone. They're practical, not too expensive and they're sure to be used. While giving a friend or loved one soap might not convey the right message about what you think of them, you should consider getting them a gift that they'll be able to use.
One of the best parts about practical gifts is that they can encompass almost anything. A dashboard smartphone holder, for instance, is a great example of a practical gift. So is a leather Apple watch strap, a nice chest bag (aka a fanny pack) and even a portable power bank.
Just remember, though, you'll want to get someone a gift that they'll actually like and be able to use. A leather Apple watch strap is nice, for instance, but you'll want to make sure the recipient would enjoy wearing their watch with the strap. It should go without saying that you should also make sure they own an Apple watch.
Buy Second-Hand Gifts
Admittedly, a lot of people look on buying gifts second-hand as the ultimate in cheapness. At best, it's regifting. At worst, it's saying you don't care enough to get the best.
The truth is, there's nothing wrong with getting someone a gently-used secondhand item, and by buying second-hand you can also stretch your dollar to get your loved ones something nice. For instance, you can get great deals on second-hand:
Bikes
Collectibles
Video games
Furniture
Books
Outdoor gear
Ebay is the obvious choice for anyone looking to buy second-hand, but you may get some good offers on Facebook Marketplace and Craigslist. The Amazon Warehouse is another good option, and the ThreadUp site has some great deals on high-end clothes.
Reduce the Stress of Holiday Shopping at First Alliance Credit Union
While you want to get nice gifts for your friends and family, you shouldn't have to drain your savings account to do it. You can set a firm spending limit to avoid taking on debt you can't handle, and you can stretch your holiday dollar further by buying experience, making your own gifts and even buying secondhand.
You can also get help funding your holidays by becoming a member of First Alliance Credit Union. Not only can you get guides that will help you set financial goals such as saving for the holidays, you can also open up a club savings account to set aside money for the holidays and even get a credit card with no annual fees and a reasonable interest rate.
Get a First Alliance credit card today!