Is pet insurance worth the cost? This is something I used to think was a completely unnecessary expense. It was just one more way insurance companies were trying to get a slice of my hard earned income. Then my shepherd mix, Moki, fell down our basement stairs breaking her back in two places. I had to rush her up to the University of Minnesota for emergency surgery, where I was faced with the heart wrenching decision pay $5,000 in full right then and there or put her to sleep to end her pain.
I paid the $5,000 for the surgery using a line of credit. Moki recovered amazingly well! She was walking again with almost no issues within six months after her surgery. Then barely a year later, I found out she had a large tumor, it grew so quickly that treatment was not an option. But I would have paid whatever was needed to treat it, had that been an option. Sadly, she passed away within two weeks of discovering the cancer. Fast forward, three years I am still paying off the $5,000 loan I had to use to cover her surgery. If Moki had been covered by pet insurance at the time, her surgery and follow up treatments would have been covered except for a small deductible.
I don't believe my situation to be outside the realm of possibility for most people to be in when you have pets. Just like people, your pets can end up in any number of unexpected accidents. Actually, 1 in 3 pets will require unexpected medical treatment every year. The difference is when people have health issues they can turn to health insurance or a health savings account to cover the costs, pets don't have that option. This leaves you in a tough spot when something terrible does happen. You're faced with the decision either to go into serious debt to save your pet's life, or put your pet to sleep. That's not a decision anyone should have to make.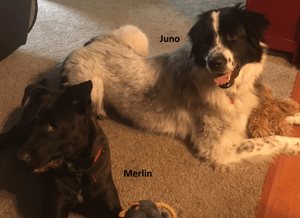 I, of course, now carry pet insurance on both of our dogs, Juno and Merlin. Luckily, I have not needed to use it in the two years that these pups have been in the family. But I now have peace of mind that should something happen, I don't have to make that difficult decision ever again. My personal opinion is: Yes, pet insurance is worth the money. But you will need to determine that for yourself, so here is some basics on pet insurance.
Pet insurance is still relatively new concept; it was first nationally available in 1980. It wasn't until the early 2000's that pet insurance began to gain popularity and it still hasn't completely caught on as a necessity for most pet owners. It's estimated that only around 1% of pet owners insure their pets, despite the fact that the cost of pet insurance is relatively low when compared to that of vehicle or health insurance.
Become a First Alliance member today!
How Does Pet Insurance Work?
The basics of pet insurance policies are not all that different from other types of insurance coverage. You pay a monthly premium; plus have deductibles and co-pays that you are responsible for paying depending upon the treatment being administered. Generally, pet insurance is a reimbursement style plan, which means your veterinarian still bills you directly. Once you've paid, then you can submit a claim to the pet insurance company and they will cut you a check for reimbursement. Depending upon your specific coverage plan you can be a reimbursement from anywhere between 20% up to 100%.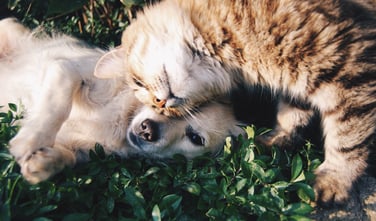 However, there are some pet insurance companies, like Trupanion, that are moving their plan structure away from the reimbursement model and into a direct billing option. Where the vet bills the insurance company directly then you cover what's left, similar to how most health insurance plans work. Overall, pet insurance plans are relatively straight forward and far less complicated than your own health insurance plans, but it is still important to spend time doing some research before purchasing a plan.
How Much Does Pet Insurance Cost?
Pet insurance coverage premiums can range in cost from around $10 a month up to $200 a month, per pet. With the average cost for covering a dog being about $25, and $15 for a cat. Of course, there are a variety of factors that can affect your specific coverage costs including:
Type of pet (dog or cat)
Breed of pet (purebreds cost more)
Pet's age (younger pets cost less)
If your pet is spayed/neutered
Where you live
Pre-existing conditions
Annual coverage ceilings
Deductible level you choose
Reimbursement level you choose
Additional coverages you elect
It's best to spend some time comparing your coverage options between different pet insurance companies; a great place to start is on PetInsuranceReview.com. This site can help you compare multiple pet insurance plans in one spot. Once you have narrowed down your options you can begin looking more closely at the specific plans available from each insurer to decide which coverage option meets your pet's specific needs. For my two pups, I chose a plan through Healthy Paws, I pay $53 a month to cover both dogs with at a $500 annual deductible and an 80% reimbursement rate.
What is Covered by a Pet Insurance Policy?
Pet insurance coverage varies from policy to policy, however most policies are intended to only cover your pet for accidents and illnesses. You can generally expect that preventive care will not be a covered, meaning annual exams, vaccines, regular grooming, and monthly heartworm prevention are still your responsibility. We suggest using a pet savings account to help you plan for and cover these types of pet expenses that are not covered with pet insurance.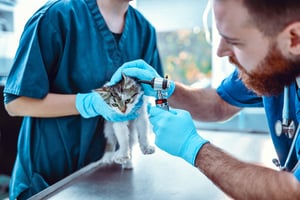 These routine expense are not usually covered because pet insurance is not typically priced to cover routine care; it's really an insurance meant to cover large unexpected expenses - it is similar to vehicle insurance in this way. Only a small number of pet insurance providers offer additional wellness coverage add-ons that would cover regular preventive care. However, electing for wellness coverage will typically increase your monthly pet insurance premium.
Additionally, pre-existing conditions are typically not covered; this is to keep people from purchasing a plan only after their pet has been injured, collecting reimbursement for past medical treatments, then dropping the plan again. Because of this caveat it's important to insure your pet as soon as possible to avoid claims being denied due to pre-existing conditions. Some chronic or genetic conditions are covered depending upon the plan you choose. So, if you have a breed known for developing certain conditions, such as hip dysplasia for German Shepards, you will want to look at plans that allow for that level of insurance coverage. However, it will likely cost you more.
Take Care of Your Pet With First Alliance Credit Union
Purchasing pet insurance is both a logical and emotional decision to make. If you are a person, like me, who would do anything for your pet, including going into large amounts of debt, then pet insurance should be seriously considered. When looking for pet insurance coverage for your fur-baby it's important to take time to find the coverage that is best for you, your pet, and your budget. Regardless of whether or not you think that pet insurance is worth the cost, you should at least be budgeting for your pet's regular exams and vaccines to help keep them as healthy as possible, without causing yourself unnecessary financial burden.
Create your new budget today!