As the cost of a college education continues to increase, saving and paying for college expenses weighs heavily on the minds of many parents. There are a variety of options to choose from when planning for your child's education. One type of savings account that can be used to help you prepare for these educational costs is a Coverdell Education Savings Account.
Coverdell Education Savings Account Definition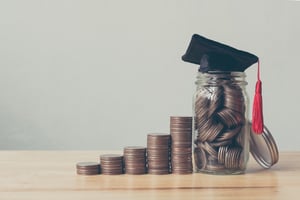 A Coverdell Education Savings Account (ESA) is one of two types of educational expense based investments, the other being a 529 plan. A Coverdell ESA is a special type of savings fund, formerly known as an Education IRA, which is intended to help you plan and save for your child's future educational costs. The qualifying costs are not limited to only college expenses however; any qualifying educational expenses incurred during your child's primary (K-12) educational career can utilize the funds in an ESA as well.
Important Features of a Coverdell ESA:
Can be opened any time prior to a child turning 18
Contributions can be made any time until a child turns 18
Contributions are made with pre-taxed funds
Total maximum annual contribution limits per beneficiary exist
Interest income accumulated in the account is not taxed
Tax-free withdrawals on qualified expenses for kindergarten through college
Annual income limits for contributors to the account
Funds are typically invested in individual stocks and bonds
Funds must be used or rolled over by the time the beneficiary turns 30
A 10% penalty fee is applied when funds are used for non-qualifying expenses
As you can see from this list of features, there are some tax benefits to using a Coverdell ESA. To fully understand the tax-implications that come with this type of educational savings account, it will be important to connect with a trusted tax advisors and financial expert to help you review the impact to you specifically.
Qualifying Expenses a Coverdell ESA Can Be Used For:
The funds saved in a Coverdell ESA must be used on qualifying expenses in order to receive the tax benefits that come with it. Any withdrawals from the account that are not considered qualifying expenses will be taxed and a possible 10% penalty fee could be applied.
Common Coverdell ESA qualifying expenses can include things such as tuition, fees, textbooks, supplies, equipment, room and board, tutoring, uniforms, and transportation. There are of course specific conditions around these expenses as well. The chart below helps explain these qualifying expenses in more detail.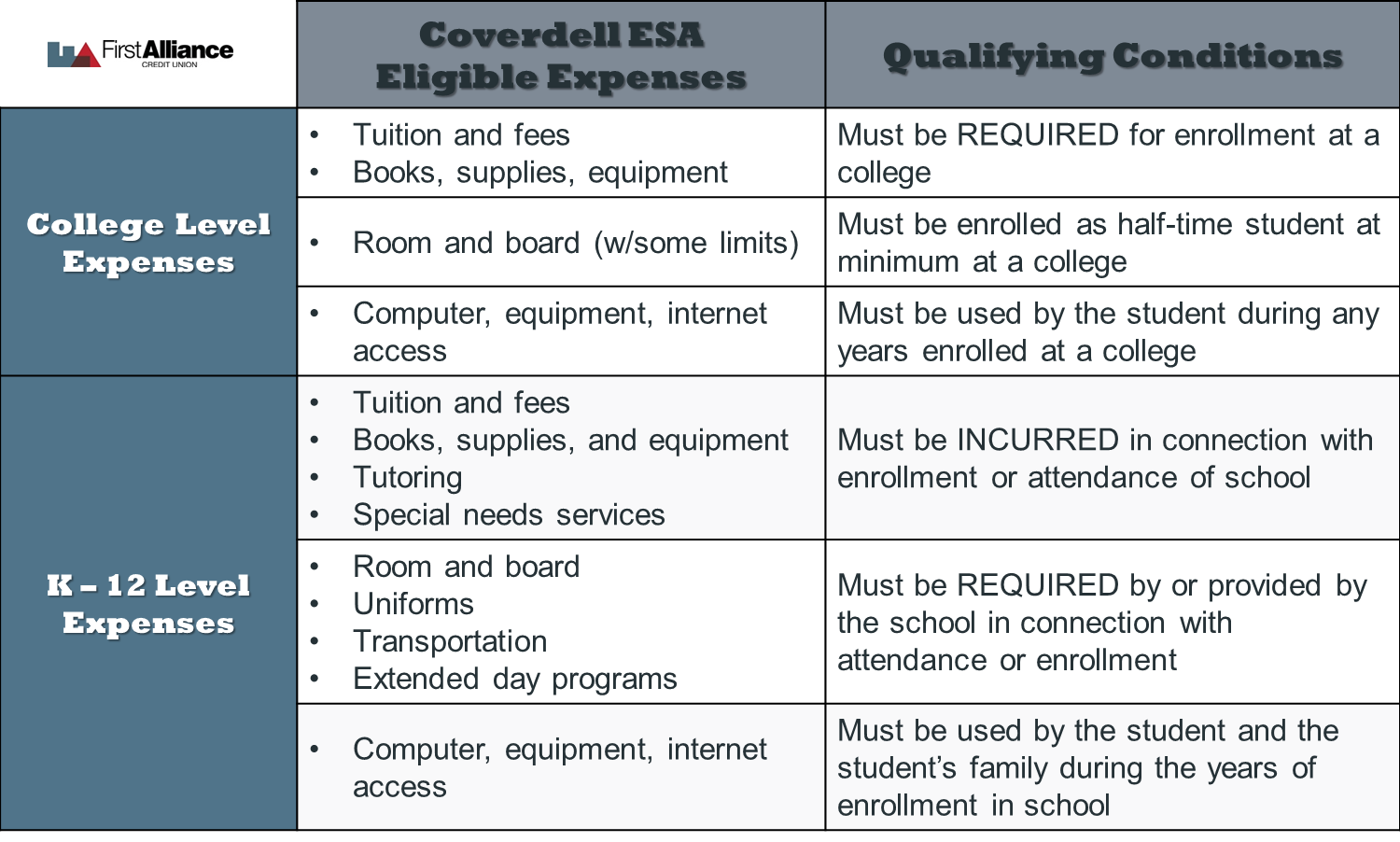 As you can see there are many educational costs that a Coverdell ESA will cover to help you plan ahead. If you're wondering about pre-school costs being covered with an education savings account, the answer is mostly no, but it depends. Some states consider pre-school to be part of primary education, while others do not. It would be best to double check whether or not pre-school is considered part of primary education in your state, prior to using Coverdell ESA funds. If you ever have questions about whether or not an expense is qualified, consult with tax and financial experts before spending the funds to avoid incurring a penalty fee.
How to Open a Coverdell ESA
The first step to opening a Coverdell ESA is finding a trusted financial institution that offers this type of account, like First Alliance Credit Union. When comparing your Coverdell ESA options from different financial institutions or investment firms make sure to look for options that provide the following:
Low opening account minimums
No to low minimum balance requirements
No account maintenance fees
Access to low cost index funds with minimal trading fees
Ability to make automated deposits into the account
Once you found the trusted financial institution where you'd like to open an educational IRA, you will need to provide some basic identifying information, along with your initial deposit for the account. The basic documents you can expect to provide are the beneficiary's social security number and other personal information such as name, birth date, and address.
Each financial institution may require other documents or identifying information based on their individual policies, and whether or not you have an existing relationship with the institution.
Coverdell Educational Savings Account Recap
A Coverdell Education Savings Account is a great option for saving for your child's educational expenses. There are certainly tax advantages to using a Coverdell ESA investment, but it is important to review your specific financial situation with a tax professional to fully understand the benefits for you.
If you do choose to open a Coverdell ESA the process is fairly simple and can be completed quickly. Of course, if you still have questions Coverdell ESAs or about saving and paying for your child's education in general, do not hesitate to connect with one of our knowledgeable advisors at First Alliance Credit Union.
Open a Coverdell ESA at First Alliance Credit Union