You probably know that credit unions and banks offer checking accounts and savings accounts. What you might not know, however, is how many different types of savings accounts are available. When you know what these accounts are, you'll be able to use the money you've saved more effectively.
What are the different types of savings accounts?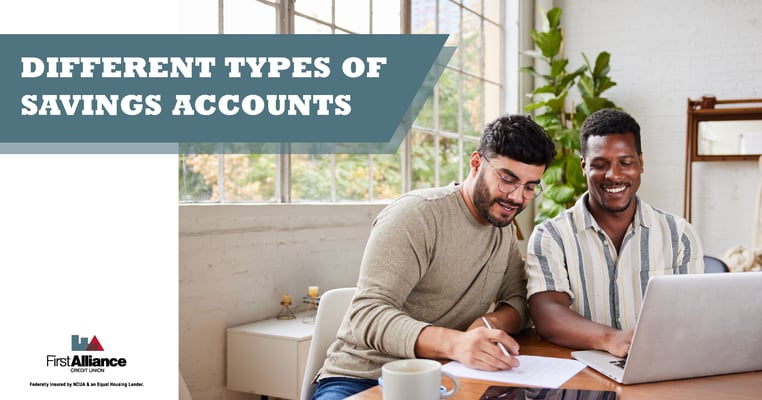 Traditional Savings Accounts
Every bank and credit union offers savings accounts. These accounts earn interest, although it may not be as much as an investment vehicle.
Traditional savings accounts have two notable variations: jumbo savings accounts and high yield savings accounts.
Jumbo savings accounts are what some financial institutions call savings accounts with a deposit of over $100,000, and they may pay a higher interest rate on these accounts.
High yield savings accounts are similar to jumbo savings accounts. Financial institutions which offer these types of accounts may require a high minimum balance, but anyone who meets the minimum requirements can expect to get a relatively high interest in return, usually over 2%.
Open a savings account at First Alliance for only $5!
Money Market Savings Accounts
A money market account is another type of savings account with a higher interest rate than a traditional savings account. In order to qualify and avoid fees, though, you may need a minimum balance of at least $1,000.
Joint Savings Accounts
A joint savings account is a savings account owned by two or more people. In most respects it is similar to a standard savings account, but there is one big difference. Since it's owned by at least two people, the NCUA (for credit unions) and the FDIC (for banks) multiplies the insurance limit of the account (about $250,000) by the number of owners in the account. This makes it an ideal account if you'd like to save up for big purchases.
Club Accounts
If you have a specific savings goal in mind, like Christmas shopping or a vacation trip, a club account can help you save money throughout the year. Club accounts have a specific date when the balance and dividends are transferred to your checking or savings account in order to help with specific purchases. Club accounts also typically offer higher interest rates than traditional savings accounts.
Rewards Savings Accounts
A rewards savings account, like First Alliance Credit Union's WINcentive account, offers the chance to win rewards if you reach certain financial goals. In the case of WINcentive, for every $25 month-over-month increase in your balance, you get one entry into a monthly, quarterly and annual state prize drawing for cash.
Rewards savings accounts can be very useful if you need an incentive to save money. You can also use the rewards themselves to further reach your savings goals. Make sure, though, that the interest rate on the rewards savings accounts is competitive with regular savings accounts.
Youth and Teen Savings Accounts
Most financial institutions offer savings accounts designed with younger people in mind. They usually have more flexible terms than regular savings, such as a lower minimum balance requirement. These types of savings accounts are a great way to help your children learn about financial literacy.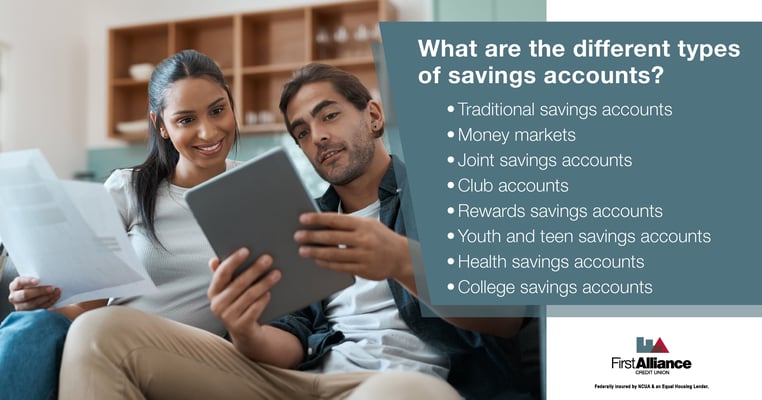 Health Savings Accounts
Medical treatment is expensive. A health savings account can help take the sting out of the bill at the end, though. The contribution you make to this account is tax-deductible and you pay no tax so long as you use the money for a qualifying medical expense. The only requirement for opening this kind of savings account is that you have to be enrolled in a health plan with a high deductible.
College Savings Accounts (Coverdell Savings Accounts)
This type of plan is used to pay for the expenses associated with higher education, such as tuition, room and board, books and other materials. Deposits to the account are not tax deductible, but withdrawals are so long as they're used for education expenses that qualify.
Got questions about what savings account is best for your needs?
Ask us!
Start a Savings Account at First Alliance Credit Union
When you decide to start saving, you'll probably put your money in a traditional savings account. However, there are other types of savings accounts. While they are all meant to save money, they have different features, and when you know what they are, you can use them to help reach your goals.
If you need help figuring out which savings account is the best fit for you, contact First Alliance Credit Union member services. Our advisors will help you figure out which savings accounts would be best for your needs, as well as how to set up automatic savings account deposits and even how to track your savings accounts with our online banking platform and mobile app.