Thanks to the COVID-19 pandemic, even meetings have an element of risk. At First Alliance, we've worked to minimize the risk by wearing masks, using hand sanitizer liberally and wiping down areas with disinfectant wipes before and after meetings with members. However, we've also taken another step to help our members and keep them safe—virtual meetings.
Virtual meetings are a safe and secure way to meet outside of the branches while still offering the same face to face feeling. You can chat with a First Alliance advisor in the comfort of your own home. As an added bonus, if there's any financial information you forgot, you can just take a minute to retrieve it from your files instead of having to schedule another meeting while you go home and retrieve the information.
If you're new to virtual meetings, don't worry—as long as you have a computer and an Internet connection, you're all set.
How to Schedule a First Alliance Virtual Meeting
The first step is to schedule the meeting, a process that you can do in four steps.
Step 1:
Click the Contact button on our home screen. Then click on the "Book a Virtual Appointment" button.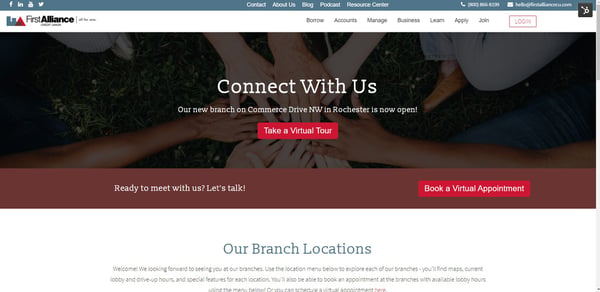 Step 2:
Once you click on the button, the website will take you to a screen that lets you choose why you want to meet with an advisor. You can choose between getting loan and credit guidance or account and membership guidance.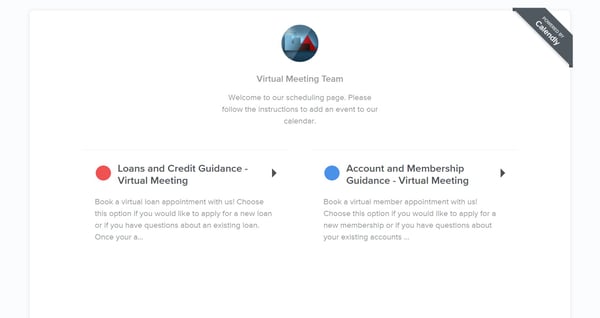 Step 3:
You'll be taken to a web page that will let you select a date and time for your meeting.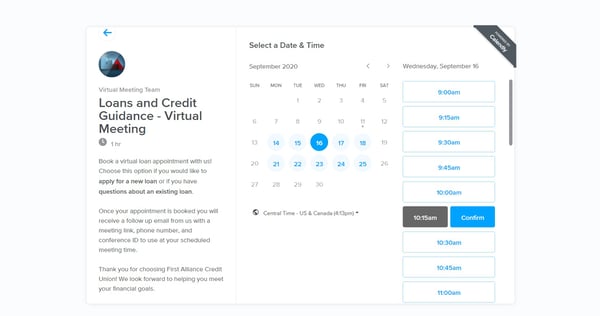 Step 4:
Once you've selected the date and time, you'll enter your name, email address and asked to tell them what you want to discuss at the meeting.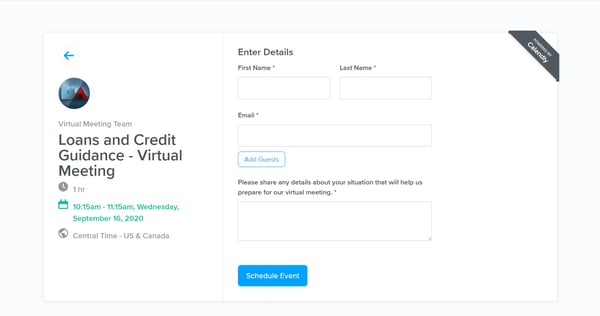 Once you've finished, you'll get an email notification that will have all the details of your meeting, including the date, the time and the lending advisor you'll be speaking with. The email will also contain a link that will take you to your meeting. Since the meeting won't have any Internet audio, you'll also get a phone number so you can call in.
Frequently Asked Questions About Virtual Meetings at First Alliance:
Will I need to download any software?
No. We use Microsoft Teams to conduct our virtual meetings, and the email will contain a link that lets you download the software, but if you don't want to download Teams you don't have to. You can access the meeting through your preferred Internet browser like Firefox or Google Chrome.
Can more than one person attend the meeting?
Absolutely! If you want to have multiple people attend the meeting, you can add them by clicking the "add guests" button, see screen in step 4.
What if I have connectivity issues?
If you experience any connectivity issues during your call, the advisor will follow up with you as soon as possible, either by calling you or sending you an email.
What if I have a question before the meeting?
If you have a question before your virtual meeting, feel free to call First Alliance Credit Union at 800-866-8199 or email us at hello@firstalliancecu.com.
What if I need to reschedule?
If you need to reschedule, your confirmation email will have a button you can use to reschedule your meeting. You will also receive a reminder email prior to you meeting which will include a reschedule option as well.
Handle Your Banking Safely With First Alliance Credit Union
When you opt for a virtual meeting, you're not only making sure you're protecting yourself against COVID-19. You're also getting the convenience to take care of your banking at home, not to mention have all your financial information at your fingertips.
Virtual meetings are just one of the ways First Alliance Credit Union is making its members' lives easier. When you become a First Alliance Credit Union member, you have access to features designed to aid our members, from our comprehensive resource center to our robust online banking platform that lets you transfer money between accounts, pay bills and even send money to your friends via Zelle.