Moving can be exciting, but it's also expensive. If you're asking, "how much money should I save before moving?" the answer is at least $500 for a local move, while moving cross-country can easily end up costing $10,000 or more.
Fortunately, you don't have to resign yourself to going thousands of dollars into debt when you move. There are several ways to save on moving costs.
Don't Move During the Busy Season
Peak moving season starts in May and runs through November. If you're able to move outside of those months, you'll benefit from reduced off-season rates. Plus, you'll have an easier time scheduling the move.
Declutter Your Home Before You Move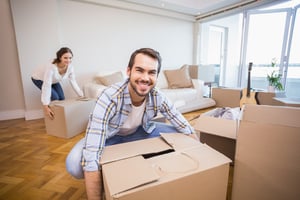 While you're preparing to move, go through your home and get rid of all the items you don't use anymore. This will not only save on moving costs, but also cut down on the time it takes to move, not to mention the headache of packing and unpacking them.
You can also sell your unwanted items to add more money to your moving fund. In addition to holding a garage sale, you can also use:
Facebook Marketplace
Craigslist
eBay
Nextdoor
You might also want to ask around and see if your friends or family would like any of the items you're selling. If you can't sell an item, donate it to a thrift store. Just be sure to get an itemized receipt so you can save more money by writing off the donation on your income taxes.
Get Your Own Packing Materials
Don't waste money on rolls of bubble wrap and "specially sized" moving boxes. Instead, use clothes and blankets to help pack fragile material. For instance, you can use kitchen towels to help pack plates, and you can wrap your glasses in socks.
You can also get moving boxes for free as well. Almost every big box retail store and grocery store has a lot of boxes on hand, and you can also look at Internet classified sites like Facebook Marketplace and Craigslist to see if anyone is giving away cardboard boxes.
See If Your Job Covers Moving Expenses
If you're moving because of work, see if your company will pay for your moving expenses or offer some sort of compensation for you relocating. You might be surprised at how much some companies will reimburse you.
Rent a Truck or Moving Container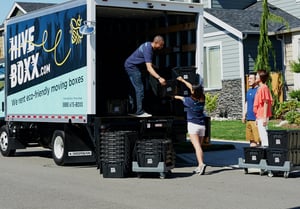 One of the biggest decisions you will make about moving is whether to hire movers or rent a truck on your own. A moving company will make moving a lot easier, but you will pay for the privilege.
You can save a lot of money simply by renting a truck and asking your family and friends to help you move. Of course, you'll want to make sure your friends are able to help first, and that you don't have any pieces of furniture that might be complicated to move, like a piano or a pool table. You'll also want to consider how far you're moving and if you'll be able to get any help unloading the moving truck at your final destination.
If you don't feel comfortable driving a moving truck, you could also rent a moving container. A moving company will park the container in your driveway, and you can load it up at your own speed. Once you've filled it up, the moving company will swing by, pick it up, and transport it to your new home where you can unload it at your convenience.
Don't Buy New Furniture Without A Plan
Moving to a new place is exciting. There's a lot of potential in a new home, and the urge to rush out and buy a lot of furniture for it is understandable, especially if you've gotten rid of a lot of items you didn't want or need before the move.
Ignore the temptation. If you don't, you're going to fall victim to emotional spending and end up with some items you really didn't need.
Instead, freeze spending on everything except the essentials until you have your existing furniture unpacked. After that, you can start to create a new plan for furnishing your new home and look for the best deals on the items you really want.
Save For Big Events With First Alliance Credit Union
Moving can be expensive. However, there are ways to cut costs. It just requires some planning and asking for help from friends and family.
You can also help prepare yourself financially for a move by becoming a member of First Alliance Credit Union today. You can store money for a move in a traditional savings account, create a moving budget using the free downloadable budget guide or get a personal line of credit to help cover your moving expenses.
Want more information? Check out episode 16 of our Good Money Moves podcast, that covers the importance of budgeting and how to get started.