Sticking to your budget can be difficult for anybody. Most of us start the month off with the best intentions of saving money, however, at the end of the month; many of us find out that we have exceeded our spending limit. It's a common scenario.
There are a lot of reasons why we end up overspending, from spending on sale items to forgetting how much you actually spent already. If this is a common situation for you it might be time to adopt some new habits and strategies to save money and stay within your budget plan. Here are a few tips and tricks that will help you be better at budgeting and become more diligent about your spending habits.
---
---
1) Pay in Cash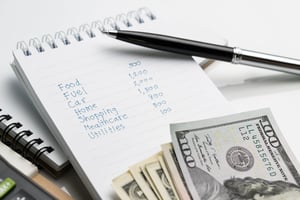 For some people, credit cards are too convenient and may tempt you to spend more money than you have. If you stick to paying for everything with cash, it can make a difference in your spending habits. Carry only the cash that you have previously allotted in your budget. Spending a large sum of money while you're paying cash can help you rethink your decision. It's mentally harder to hand over a stack of cash, than it is to swipe a card.
2) Use Coupons
Using coupons is a great way to save money. There are many stores that accept coupons. You can find free coupons in magazines, newspapers and even online. Some stores (and credit unions - hint, hint) even have their own free apps that have daily, weekly, or monthly coupons that are available to you after you download the store's mobile app.
3) Make a List
A great way to avoid spending extra money is to make a list of only the items you need. They can be grocery items, household items, or even utility bills. If you make a list of all the things you need to purchase and how much those items cost, you will have a great idea of how much you need to spend each month.
---
Want to hear more? Our COO Mark Hettinger talks about when you should start budgeting in this video from KIMT News 3.
---
4) Shop Alone
If you shop with your family, someone is bound to find at least one item they just have to have, but is not on the shopping list. Saying "yes" to these additional items, may make others in your family momentarily happy, but can also force you to over spend your budget. A good way to avoid this situation all together is to either shop alone, or set a certain amount of money aside for special requests.
5) Negotiate Prices
When possible, try to negotiate the prices of things you buy. Some retailers will sell items at a discounted rate. If you're buying from an item used from a private party, they are more likely to negotiate pricing with you as well. It doesn't hurt to ask; the worst that will happen is they will say "no" or they may counter-offer.
6) Resist Advertisements
Many stores provide customers with offers and discounts that may seem harmless at the time, but in the long run, these deals can damage your budget. Just because it's on sale doesn't mean it's a good deal. Avoid giving into these temptations to help stick to your budget goals. If it wasn't a previously planned expense, then you are essentially spending money you didn't budget for, even though the price might have been discounted.
7) Track Your Spending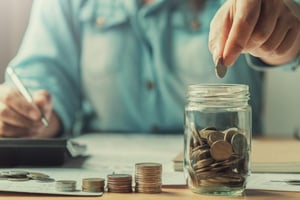 Many small purchases can amount to a large sum of money by the end of the month. Spending a dollar here or five dollars there might not seem like a big deal, but it can take a toll on your budget over time. The best way to overcome this problem is to track your spending. You can do this online, with a spreadsheet or write your expenses on paper. If you keep track of all expenditures, no matter how small they may seem, you may be surprised to see how much you can reduce your overall spending.
8) Limit Shopping Trips
The less you go out, the less you're likely to spend. If you shop frequently, then the chances of you buying non-essential items will also increase. To prevent this from happening, you could assign one day for all of your weekly shopping and buy everything that you need on that day. If you missed an item, add it to your list for the following week rather than going back just for one item, this will also save you money on gas!
9) Log Expenses Frequently
Instead of logging your expenses at the end of the month, you could try logging them daily. Ask for a receipt any time you buy something. This way you will be able to track your spending activity and get a better understanding of your spending habits.
Get Help Budgeting With First Alliance Credit Union
With a few changes to your spending habits, you can learn to stick to your budget. You can not only avoid unnecessary expenses, but also increase your savings.
If you need help creating a budget, check out the budgeting resources First Alliance Credit Union offers on its resource page. You can use them to create a budget, calculate how long you'll need to pay off a loan or how much time you'll need to reach your savings goals!
---