Today, First Alliance Credit Union donated $7,500 to the Jeremiah Program, a nonprofit organization dedicated to providing affordable housing and support for single mothers and their children in the Rochester Area. The donation will be used to help support the individual needs of the families who live on the organization's campus throughout the year. This includes providing individual coaching, support and advocacy, as well as supporting the wide variety of educational workshops the organization facilitates for the families in their programs.
"All too often, single mothers are forced to choose between providing for their children and investing in themselves," said Ally Hanten-Ebert, Executive Director of the Jeremiah Program. "With the generous support from partners like First Alliance Credit Union we are able help single mothers further their family's future by disrupting the cycle of poverty."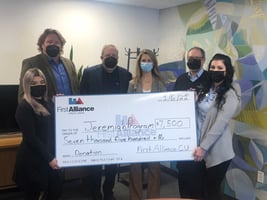 In 2021, the Jeremiah Program supported families with an average annual income of only $13,362. All the moms in the program are working towards college degrees and their children are being provided with foundational educational programs. The Jeremiah Program campus can house 40 families at a time and provides support and resources to many off-campus families in the Rochester area community as well. The program has the capacity to serve 60 families at any one time and has served over 80 families this last year.
First Alliance Credit Union President and CEO, Michael Rosek, said "One of the foundations for success in any community is helping some of its most vulnerable members. We are proud to partner with and support the Jeremiah Program to help single mothers and their children in our community, to not just survive, but thrive."
First Alliance Credit Union is also working in partnership with the Jeremiah Program to begin providing additional financial literacy support and education to the families in the program for 2022.
---
About First Alliance Credit Union: First Alliance Credit Union is the original credit union in Rochester, Minnesota, founded in 1932 by Rochester firefighters and a schoolteacher. Membership is open to everyone who lives, works, worships, owns a business or attends school in Olmsted, Winona, Wabasha, Dodge and Goodhue counties.
About the Jeremiah Program: The Jeremiah Program is a nonprofit organization whose mission is to disrupt the cycle of poverty for single mothers and their children, two generations at a time. To that end, they provide access to college education, as well as college educational support for mothers and pre-K education access for their children.