One of the most exciting and important questions you can ask your significant other is, "Will you marry me?" Once your significant other accepts the proposal, though, another question inevitably arises—how on earth will you pay for a wedding?
This is not an insignificant issue. According to the website The Knot, the average cost of a wedding in 2021 was $28,000. That's a lot of money for anyone, and even if you use every trick in the book to reduce wedding expenses, you're still going to have to pay a few thousand dollars if you want any kind of celebration.
The good news is that you don't have to pay this money out of pocket. In fact, you have several options when it comes to financing your wedding.
Save up in Advance
The most obvious way to pay for a wedding is by using your personal funds. This has several advantages, such as not starting your marriage by being in debt and not having to pay interest on thousands of dollars. Of course, most people don't just have that kind money lying around.
What you can do, though, is make paying for your wedding a financial goal. Talk with your partner about the type of wedding you want to have, figure out how much it will cost and then set up a goal that is S.M.A.R.T.—specific, measurable, attainable, realistic and time-bound. This will help you figure out how much you need to save, how long you'll need to save and even let you adjust the parameters of your goal so you know what you can realistically accomplish.
Get started setting financial goals today!
Get a Personal Loan or Line of Credit
Of course, for many people the reality is that they'll have to save for months, if not years, to be able to fully pay for their wedding. Fortunately, there are other options available.
A personal line of credit is one of these options. When you open a personal line of credit, you get access to a pool of money that you can draw from as needed. You can then pay back what you've borrowed in the same way you would a credit card, and you only pay interest on the money you've borrowed.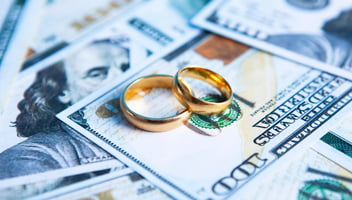 Using a personal line of credit to finance a wedding has a lot of advantages. For instance, you can use the money to cover not just your planned expenses, but also pay for surprise expenses that spring up. You'll probably also end up paying less in interest than you would with a credit card, especially if you don't borrow the entire line of credit and pay back the money you've borrowed as soon as you can.
On the other hand, if you've completely planned your wedding's costs, a personal loan might be your best bet. You'll know how much you're getting up front, and the payments for the life of the loan will be consistent, which makes budgeting for them much easier. If you do opt for taking out a loan for your wedding, remember to compare rates from different financial institutions to help you get the lowest interest rate you qualify for, and a monthly payment that can fit comfortably into your budget.
Use Credit Cards Strategically
Usually, using credit cards to fund a big-ticket item like a wedding is a bad idea. However, if you use credit cards strategically, you might be able to fund your wedding and save a bit of money in the process.
The first thing you should do is look for a credit card that offers a 0% APR promotional rate. In other words, any charges you put on your card won't earn interest during the promotional period. After the promotional period, though, you'll have to start paying interest, which can be as high as 30%
If you're going to take advantage of this promotion, make sure you'll be able to pay it back before the promotional period is done. If you can't pay if off completely, you might want to think about getting a personal loan with a lower interest rate and using it to pay off the remaining balance.
Another trick you can use is to get a rewards credit card and use the points you get for each transaction to help you save money on other expenses. For instance, if you're planning on taking a honeymoon, you can use the rewards you get from your credit card to help pay down your travel expenses. This is an especially good choice if your credit card gives you points for free airline miles.
Start Financing Your Dream Wedding Today
Mix and Match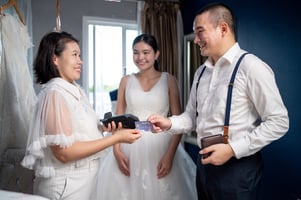 The final thing you should know about paying for a wedding is that many people don't just rely on one method. Instead, they combine the three methods in a way that works best for them. We already mentioned getting a personal loan to pay off the remaining balance of a credit card once its 0% promotional period expires, but there are several other ways you can combine them.
One of the more common strategies is to build up your savings as much as possible, then take out a personal loan or line of credit to pay off any expenses your savings can't cover. You could also charge your wedding expenses to a rewards card, then use your savings to pay off the balance so you get the rewards without having to pay interest. If you're really feeling ambitious, you might even see if you could use a rewards card to pay for your wedding, then try to transfer the remaining balance to a credit card with a 0% APR promotional rate and pay off the balance before the promotional rate runs out.
Finance Your Wedding With First Alliance Credit Union
Weddings are expensive, but you have several options when it comes to paying for them, including getting a loan, using a credit card or saving up for the event. You can even use a mixture of the three.
If you're looking to finance your wedding, become a First Alliance Credit Union member and take advantage of our services. You can take out a personal loan or personal line of credit to pay for your wedding, or you can apply for a uChoose rewards credit card and get points with each purchase. We also offer different types of savings accounts where you can set aside money for the big event.