Family vacations can be wonderful events (especially after being cooped up for the last 12 months!) that will give you and your children memories that last a lifetime. However, they can also be a stress-filled roller coaster of unexpected hurdles that test the limits of your patience, to say nothing of your bank account.
The following tips won't guarantee that your next family vacation will go smoothly, but they will drastically reduce the possibility that you spend your next family vacation in constant crisis management mode.
Here's how to increase the odds of a successful family vacation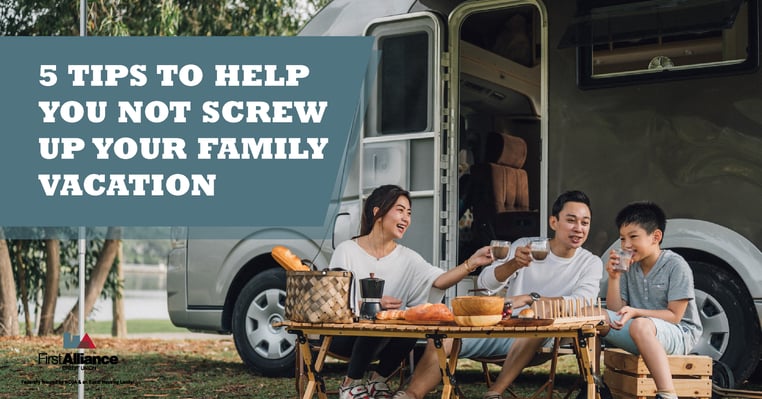 1. Plan in Advance as Much as Possible
The best way to make sure your family vacation goes smoothly is to plan ahead. The sooner you start planning for your trip, the less you'll be forced to deal with last-minute obstacles.
You can start your vacation planning with the basics, like where you want to go and how long you want to stay. Once you have that information in mind, you can start planning out how to get there, how long your travel time should be, and what you might like to do along the way. The more time you take to plan, the less stressed you'll be when the vacation comes.
Of course, your family vacation planning should also include figuring out how much your vacation will cost. The best way to figure this out is with a vacation budget.
A vacation budget is similar to a monthly budget, but you're not trying to balance your income against your expenses. Instead, you'll list categories of everything you plan to spend money on during the vacation and estimate how much it will cost. Usual vacation budget categories include
travel
lodging
activities
souvenirs
However, you'll probably have some categories specific to your vacation you'll also want to add.


2. Pay for Your Family Vacation Before you Leave
Once you've answered the question "how much money do I need for a vacation?", you can start setting aside money to pay for your trip. The more money you can set aside to fund your vacation up front, the less you'll have to rely on credit cards, and the less money you'll have to pay in interest.
One of the best ways to start putting money aside for your family vacation is to add a vacation category to your budget. That way you know what you'll comfortably be able to contribute to your vacation fund each month. You can also use club accounts to make sure the money you save remains untouched until the date of your vacation.
Set a SMART goal for your vacation today!
3. Pre-Book as Early as Possible
Getting reservations can save you time, hassle and money, especially when you're traveling with kids. While you probably already know to book things like airline flights well in advance, you should also pre-book hotels, theme parks, museums, tours and other attractions.
Even if you don't know exactly where you're going, you should still try to pre-book a day or two in advance. As an added bonus, pre-booking will give you time to find coupons and discounts online. Some businesses might even give you a discount for getting a reservation.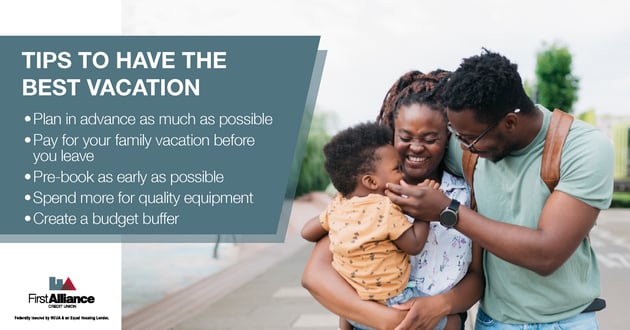 4. Spend More for Quality Equipment
While there are plenty of ways to save money on a family vacation, you don't want to be frugal when selecting your equipment. You should be okay with spending more money on a durable, lightweight suitcase or a baby stroller that can fold up smaller and is lighter than cheaper models.
If you're having trouble figuring out whether to invest in some new gear or not, ask yourself how often you'll be using the item in question and how much easier it will make your life during the trip. A $30 neck pillow might be softer than a $16 dollar one, for instance, but if you'll only be using it on the flights there and back, you may want to save the $14 for something else. On the other hand, if you plan on traveling overseas you might want to invest in a decent travel converter, since you'll be using it constantly.
5. Create a Budget Buffer
No matter how hard you try to plan for every detail, you'll probably have to deal with at least one unforeseen expense. Make sure you're prepared for an emergency by adding a 15-20% buffer to your vacation budget. That way, you're prepared if something goes wrong--and if you have some money left over, you can use it to start paying for your next family vacation!
Got questions about saving for a vacation? Ask us!
First Alliance Credit Union Can Help You Plan for Your Next Family Vacation
Family vacations are an adventure, and like any adventure, preparation is key to success. When you start planning the details of your trip, you'll know what you need to do to effectively prepare.
It's worth pointing out that First Alliance Credit Union has several tools you can use to help you get ready for a family vacation. In addition to the previously-mentioned club saving accounts, you can also invest money in certificates of deposit (CDs) and earn even more funds for your upcoming family vacation. You can even download our free budgeting calculator to help you figure out how much you'll need to save for your family vacation.