To experience the world as a traveler, and not as a tourist, you need the freedom to explore beyond the landmarks. But how can you travel around without actually breaking the bank? Below are some financial tips that may help you save money and enjoy a vacation more than once a year.
How to Save on Airfare
Airline Tickets: Make your traveling plans in advance, and visit discount websites to see there are any better offers. Though there is a possibility that these sites may charge you a service fee, they often combine flight segments with other airlines easily providing you with a btter deal. Airlines will often bump up prices closer to the date of travel, so purchasing tickets as early in advance as possible can save a lot on ticket prices.
Connecting Flights: Connecting flights saves you a large amount of money even if you think it is a pain. Make sure to leave plenty of time in between flights, because any flight delays could cause you to miss your connecting flight. Allowing 3-5 hours in between each flight can minimize the chance of missing the flight.
Traveling Light: Try to consolidate your things to the two allotted carry-on bags to avoid charges for a bigger bag that must be checked. Make sure to check your airline's carry-on restrictions and pack your bags accordingly.
Look for Roundtrip Tickets: Roundtrip tickets are much cheaper than one-way tickets. Sometimes, you don't even have to use the return trip to make it worth it.
Get started setting financial goals today!
How to Save on Food
Plan Your Meals: Figure out where you will be eating before going out. This is good for your wallet as well as your stomach since you can find restaurants that offer good food at affordable prices.
Cook for Yourself: Not a lot of people are fond of it, but for those who are, cooking for yourself can save a considerable amount of money that can be spent elsewhere on your travels.
Avoid Hotel Breakfasts: Unless the hotel provides a continental breakfast or breakfast is included in the price of the room, it is likely that the breakfast from the hotel is expensive and not worth it. It is much better to walk and find a local café, and who knows you might come across a local favorite. Ask the hotel staff at the front desk if they can make any recommendations, often times locals know where to find the best food.
More at Lunch, Less at Dinner: Fancy lunches are usually much less expensive than the dinner. You can order the same meal at lunch and dinner and pay a lot more at dinner time, because it is common that restaurants will charge more for dinner.
How to Save on Car Rentals
The Size of the Car: If there is a small number in your party, or there is no need for a big car, opt for a smaller one. You can typically save on gas and the price of the car if you order a smaller car.
Fill Up the Rental: If you are renting a car, and need fuel, you should just fill it up with regular gas, as this is what the rental company uses. Also, do not use the offers that say they will fill the gas tank for you. Though they may be advertised as cheap, they charge you for the full tank regardless of how much is left in the tank when you give the car back. If you aren't traveling very far, and won't use a full tank, it is much cheaper to fill up the gas yourself.
Accommodations
Small Towns Close By: Smaller towns are everywhere; you might even find one next to the place where you are going that has hotels that are much less expensive. If a 15-minute ride is no big deal for you, you may save. Staying in the big city with the attractions will come with a hefty price tag, whereas staying in a nearby city will come at a more affordable price.
Vacation Homes: If you are staying at a place for quite a few days, then you should consider a vacation home over a hotel. They are usually more comfortable and cost you less.
Suites: Instead of taking two rooms, you should go for a two-roomed suite if the hotel offers it. Often, this will end up being cheaper and you can still have the privacy.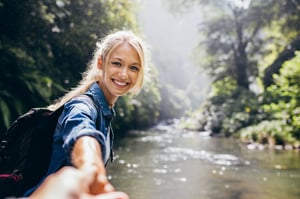 Currencies
Watch Your Destination's Currency Rates: Consider the exchange rates when you travel. This can make a huge difference. Watch to see when the rates are best.
Getting Cash: Search the internet for a place that offers the best exchange rate. Sometimes even your local credit union can offer a better exchange rate than an exchange center.
Shopping
Duty Free: Several airports have a duty free shop of which you can take an advantage of. Tax-free makes the least expensive option.
Tax Refunds: There are some countries that offer to let you get back all or part of the retail sales tax that you paid while shopping. You may have to fill out forms and show your receipt, but if you are making large purchases abroad then this can help you save.
Discounts
Age, Student and Membership Discounts: Many attractions offer a discount for students, children or seniors. Make sure to look for or ask about these offers. When traveling, remember to take your ID and membership cards with you that will qualify you for these discounts.
Group Discounts: There are group discounts everywhere. Take advantage. Team up with friends and go to the same destinations together.
Make Your Next Trip Stress-Free With First Alliance Credit Union
Traveling around and going on vacations can be taxing on your wallet. There are several options out there to save money while traveling and it all comes down to how you utilize the resources available to you. Wherever there is an obstacle, there is a way to overcome it. You can follow a few tips mentioned and end up saving a lot of money for yourself.
Become a First Alliance Credit Union member today!