Everyone knows that a successful family vacation requires a lot of planning. You'll want to know where you'll be going, where you'll be staying and how you'll be getting there, among several other factors.
What people always seem to overlook, though, is where they'll eat on their trip. That's understandable. After all, if you're driving to your vacation destination, there will be plenty of restaurants along the way. If you're flying, you'll find a wide selection of restaurants at the airport.
However, not all restaurants are created equal, especially when families are concerned. Some restaurants have nothing to offer children outside of a sparse children's menu, while other restaurants outright pander to children, leaving adults adrift in a sea of cartoon characters and play areas. There are a few restaurants, though, that are fun for the whole family.
---

---
IHOP
The International House of Pancakes offers breakfast at all hours, which can be attractive enough for children. Even better is that the children's menu is packed with items specifically aimed at kids, like pancakes with whipped cream faces. Parents will also appreciate that IHOP also frequently offers promotions where children's entrees are free with the purchase of an adult entrée.
Ruby Tuesday
Ruby Tuesday has some amazing entrees and a well-stocked salad bar that's pretty much an entree in itself. Best of all, on Tuesdays children eat free with the purchase of an adult entree from 5 p.m. until close, making the restaurant an ideal dinner stop.
Steak 'n Shake
Steak 'n Shake offers some classic "American" fare, such as hamburgers, hot dogs and chili. It also offers a free kids meal on the weekend for every $9 you spend, which is a great way to save money.
Olive Garden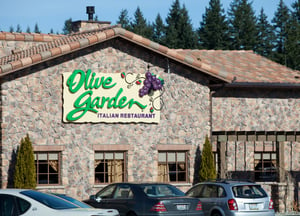 Adults will appreciate the sophisticated atmosphere, and the chance to relax with a glass of wine. Children will appreciate that they get a menu of their own that includes coloring and activity pages. Everyone will appreciate the unlimited breadsticks.
Cracker Barrel
This restaurant chain is modeled on an old-fashioned general store, complete with a gift shop kids will enjoy going through while you wait for your entrees. It also features a children's menu that actually has child-size portions of some classic menu items, and kids get a free dessert on their birthday.
Denny's
Denny's is pretty much everywhere in the United States at this point, and they serve breakfast at any time. At most of them, you can get a free kids' meal if you buy an adult meal worth at least $6, although the day of the week varies by location. Also, anyone in your family gets to build their own "Grand Slam" entree on their birthday.
T.G.I. Friday's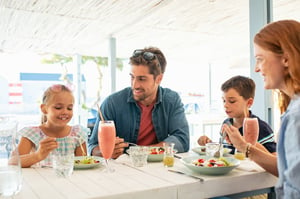 If you're looking to stretch your dollar a bit, T.G.I. Friday's has several great deals, including free kids meals with the purchase of an adult entree at most locations, and for about $12 a person you can get endless appetizers. If you're in a hurry, you can also get a "family box" and get your meal specially prepared to-go--perfect for when you really can't be late for the next item on your itinerary.
Johnny Rockets
This restaurant chain isn't known for any deals for children or special offers. What it is known for is having a fun, retro atmosphere reminiscent of a 1950s diner. It even has a jukebox, and the servers have been known to dance from time to time.
Smashburger
Kids love fast food. Adults love quality food. Smashburger combines both together in a restaurant chain that is committed to using premium ingredients, such as avocado and truffle oil. It also offers chicken sandwiches and salads for anyone who is trying to eat healthier.
P.F. Chang's
This may be the fanciest restaurant chain on the list, but it also has a good selection for children, from a child's lo mein entree to a vegetable-based "Baby Buddha's Feast." If you happen to arrive during happy hour, you can get $4 dumplings (and $6 cocktails).
Make Your Vacation a Success With First Alliance Credit Union
While mealtimes on family vacations can be chaotic, these restaurants offer options that adults and children will equally enjoy. It doesn't hurt that many of them also let kids eat free so you can spend money on more vacation-oriented experiences.
Want to be able to put even more money toward your family vacation? Become a First Alliance Credit Union member today.
We have several different ways for members to save money for events, such as certificates of deposit (CD) and club accounts that will keep your money safe and earning interest until it is transferred into your checking or savings account on a date you specify. You can even download our budgeting calculator to help you figure out how much you'll need to save for your family vacation.
This is your year. Take the vacation of your dreams!
---