At this point, it's common knowledge that a savings account is the best place to store money you're putting aside for a financial goal. What you might not know is that you can have more than one savings account—and multiple savings accounts have huge advantages to offer anyone trying to reach their financial goals.
Here's how multiple savings accounts help you achieve your financial goals
Even if you just have one financial goal, a separate savings account can help.
Saving for Multiple Financial Goals is Easier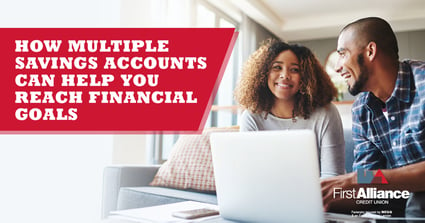 The most obvious advantage of having multiple savings accounts for different financial goals is that it's easier to save for multiple goals at the same time. While you could put all the money you have saved for your goals into one savings account, but if you do so, you'll have a harder time keeping track of how much money you have saved for each goal. For instance, if you have $20,000 in your savings account, will you be able to remember that $12,000 is for a down payment on a home, $1,000 is for a new washing machine, $2,000 is for your summer vacation and the remaining $5,000 is your emergency fund?
However, when you create separate savings accounts for each of your goals, you'll have an easier time keeping track of which funds are meant for which goal. Even better, you can use Direct Deposit to split your paycheck between different accounts and automate putting money aside for your savings goals.
Get started setting financial goals today!
You can See how Much Progress You've Made Toward Your Goals
Of course, when you can see how much money you have saved for each of your financial goals, you also know how close you are to achieving them. This can be a great motivator, especially the closer you get to achieving your goals.
Even better, you can use this information to help you determine how to prioritize savings goals. If you're close to achieving one of your goals, for instance, you might want to put more money towards it. On the other hand, if you see that the savings account you have set up for one of your goals doesn't have as much money as you'd like, you can put more money in that account to build it up faster.
You can use Different Types of Savings Accounts for Different Goals
While a traditional savings account is almost always a good place to set aside money, it's not the only type of savings account. Several other types of savings accounts exist, and knowing when to use them can help you reach your financial goals faster.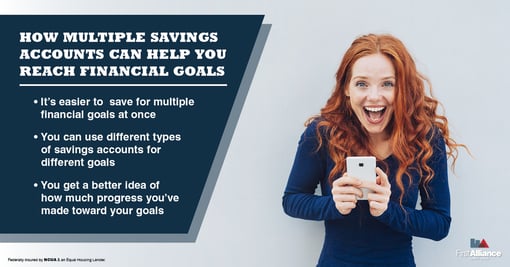 For instance, money market accounts are ideal for your emergency fund or medium-term financial goals. In both cases, you'll eventually have the $2,000 you need to make the initial deposit, and once you've opened the account you can take advantage of not only the higher interest rate, but also the ability to withdraw the money whenever you need it.
If you're saving for a long-term financial goal, though, you might want to put your money in an account like a certificate of deposit. You'll benefit from an even higher rate of interest than you'd get with many high-yield savings accounts, and while you wouldn't be able to access your money until the CD expires, you shouldn't have to since a long-term goal typically takes years to reach.
Got questions about which savings account is best for you? Ask us!
Take Advantage of Multiple Savings Accounts at First Alliance Credit Union
Multiple savings accounts have a lot of advantages to anyone with financial goals. They can separate money in a bank account to help you keep track of how much you have saved for each goal. This also helps you see how close you are to achieving them. You can also take advantage of the features of different types of savings accounts to save for your goals more effectively.
If you'd like to put multiple savings accounts to work for you, become a member of First Alliance Credit Union today and talk with a member experience advisor. They'll be happy to help you out, and you can keep track of all your accounts with our online banking platform and mobile app.