Almost everyone needs to get a bigger place at some point in their lives, whether they're a college student moving from the dorms into an apartment complex or a growing family that needs more space. Figuring out when to move to a larger home can be tricky, though. It's a huge investment of both time and money, and many people are understandably hesitant to make such a huge financial move unless they're absolutely sure they're making the right decision.
Fortunately, there are some signs that can let you know you should be thinking about buying a larger home.
You Have an Addition to Your Family
If you're adding a new member to your family, you'll want to think about whether your current house will have enough space for another person. Will there be enough bedrooms and bathrooms to accommodate everyone? Will your children have the space they need to play?
Admittedly, trying to figure this out as you're getting ready for the new family member to arrive can be pretty difficult. However, you're probably already aware of how much space you and your partner need, and if you already feel like there's not a lot of extra space in your house, you may want to look for a bigger one.
Your Job has Changed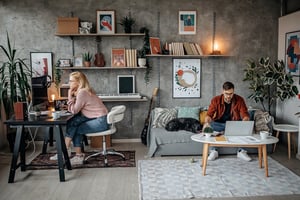 Thanks to the pandemic, a lot of people have transitioned to working from home on a semi permanent basis. If you're one of these people, you already know that working from home requires some dedicated office space, and if you're still holding Zoom meetings at your kitchen table, you may want to look into buying a house with enough room for you to set up your own home office, especially if this will be your main workspace for the foreseeable future.
You've Changed Your Lifestyle
Both becoming a new parent and working from home are big changes that will affect your lifestyle, but they aren't the only ones. If you discover a new hobby, for instance, you might need some more space for it than your house currently offers. Other lifestyle changes that might lead to buying a bigger home include wanting to host get-togethers, buying pets or simply needing more space in which to maneuver.
You can Afford It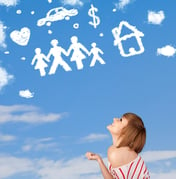 Finally, if you can afford a bigger home, you might want to think about buying one. Granted, you don't want to buy a bigger house just because you can. However, if you've always wanted a larger dream home and your income has increased, you just might want to figure out if your increased income can handle the added expense of owning a bigger house.
Remember, though, don't just buy a bigger home just because you have the money for it. Make sure it's an important financial goal for you, and make sure you're okay with putting your money toward a larger home instead of one of your other financial goals.
Get the Home You've Always Wanted With First Alliance Credit Union
Trying to figure out if you need a bigger home isn't an easy decision. However, if you keep an eye open for signs like adding more people to your family or needing more space for your lifestyle, you'll feel better about making the decision to buy a bigger house.
If you're ready to trade your current house in for a bigger one, become a member of First Alliance Credit Union today. Our expert team of real estate loan advisors will guide you through the mortgage application process and help you get a mortgage that works for you.
Looking to buy a home? We can help!