January 1st is a time to look ahead and think about all the things you want to do during the new year. That doesn't just include goals like getting into shape or cleaning out your garage, though--it can also include financial goals.
Of course, financial goals, like other New Year's Resolutions, can require a lot of work to achieve them. Before you set your financial goals, it pays to take some time to plan and ask yourself some questions.
Take a Look Back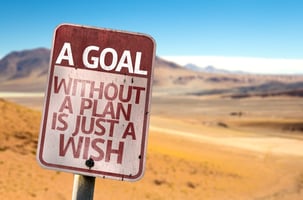 The success and milestones you reached in the last year are learning experiences that can help you when you begin to set goals for this year.
What Went Right:
What went well with your finances last year?
What actions did you take to succeed?
Did you pay down debt?
Did you increase savings?
Did you make a major purchase or pay for an event with cash?
Did you stick to your budget plan?
Did you overcome any financial obstacles?
Once you list what went right, think about areas where you may have come up short, or need to improve.
Things to Consider
What could have gone better?
Where are the areas for improvement?
What held you back?
What changes can you make?
Is your savings where you wanted it?
Were yo too aggressive or not aggressive enough with your savings goals?
Should you try again with a more realistic amount?
Don't get down on yourself if there are areas that you did not succeed. Use them as learning experiences to improve your financial position in 2018. Consider trying something new if things didn't go to plan in 2017. Maybe start a formal budget or structure your direct deposits to help you save!
Set S.M.A.R.T. Goals
Once you have reflected on the previous year, it's time to set your goals! The best way to set financial goals is to use the S.M.A.R.T goals method. Write your goals down and make sure they are:
Specific
Measureable
Attainable
Realistic
Time-Bound
Using the S.M.A.R.T. Goals method ensures your goals are planned out, which sets you up for success!
Put it into Action:
Once you have your financial resolutions set, the question becomes "What are you going to do TODAY that will help you get to that goal?" To achieve your goals today, it may mean not getting that cup of coffee, or deciding against that online order. It may also mean that you decide to cook something for dinner, instead of going out. We can create fantastic long and short term goals. But, it is those tiny, every day decisions that will get you there. So what are you going to do today?
Achieve Your New Year's Goals With First Alliance Credit Union
A new year is a great time to set financial goals. However, you'll need to plan if you want to achieve those goals. You need to look back on the last year and figure out what went right--and not so right--before making your financial goals into S.M.A.R.T. goals and coming up with a plan for how you'll achieve those goals in the upcoming year.
If you want to make achieving your financial goals easier, become a member of First Alliance Credit Union today. You can save money in our traditional savings accounts, open up a club account that will only let you access the money you put in at a different date and even figure out how to budget for your financial goals by using the budgeting guide in our resource center.
Get started setting financial goals today.