According to a GoBankingRates report, millennials are more likely to open an account at a National Bank or an online bank than a credit union. That's understandable—everyone knows that banks have checking and savings accounts, and national banks have the advantage of being pretty much everywhere. Credit unions, by comparison, can seem not only more exclusive, but more limited than banks like Wells Fargo or Bank of America.
Can a Credit Union Help a Millennial?
Credit unions have a lot to offer anyone, including millennials. They may not be as big or ubiquitous as a national bank, but they can give millennials a financial advantage that big banks can't.
Millennials can Keep More of Their Money
Big banks look at fees as a source of revenue that can increase their bottom line. Credit unions, though, tend to charge fees only to cover the cost of certain services.
This means credit unions can charge lower fees for almost everything, and in some cases they've gotten rid of some fees altogether. If you've ever hated paying fees at an ATM, for instance, you'll find that credit unions don't charge a fee for their ATMs. What this means is that you get to keep more of your money instead of paying more of it in fees, which is extremely important to anyone who is just starting to live on their own.
Credit Unions Won't Judge Millennials Solely by Their Credit Score
Millennials are anyone born from 1981 to 1996., which is also the age where most people take out loans, whether its for a house, an automobile or even to remodel their house. However, millennials also grew up during the Great Recession, and a lot of them are familiar with how some banks took advantage of lenders. As a result, they want a financial institution that treats them as a person, instead of just a credit score.
Fortunately, credit unions like First Alliance look a loan applicant's entire financial situation, including why they want the loan, whether they have a stable job and the circumstances behind any issues with their credit score. Even better, credit unions are known for working with their members to help them get a loan that best fits their financial needs.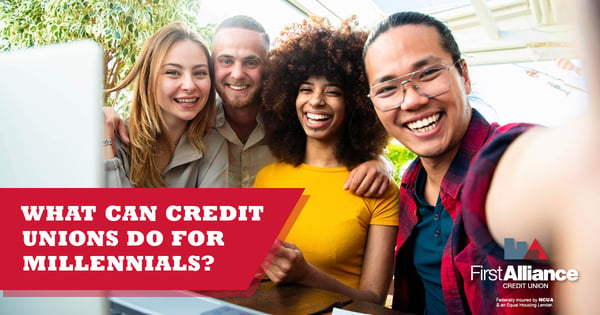 Worried about getting approved? We can help.
You can be Part of a Socially Conscious Organization
One of the best traits of many millennials is the desire to do business with companies that are socially conscious and have ethical business standards. That describes a lot of not for profit corporations.
At First Alliance, for instance, we've donated to several charitable organizations, including Paws and Claws and the Jeremiah Program. We also work with the United Way, and since our members are our owners, we put a priority on treating all of them fairly. In fact, we even maintain an entire page worth of resources meant to empower you financially.
Discover the Credit Union Difference at First Alliance
Credit unions have a lot to offer millennials. They have lower fees, so you can keep more of your money, and they're also more likely to help millennials get a much-needed loan than a bank will. Even better, many credit unions are socially conscious organizations that have a history of helping the community.
If you'd like to experience the credit union difference for yourself, become a member of First Alliance Credit Union today. It only costs $5 to join, and from there you can apply for a loan, learn about how to build up your savings account and create a budget, and even get help setting financial goals.
Become a First Alliance member today!