There's an old saying that if you give someone a fish, they'll eat for a day. Teach them how to fish, though, and they'll eat for the rest of their lives. In other words, you're empowering that person by giving them the tools to control their own destiny.
Empowerment is a pretty big deal at First Alliance, too. We want to inspire our members to take control of their finances and help them chart their own path toward financial success. While there are a lot of small ways we do this, from how we interact with our members to how we make ourselves available, there are three big self-help resources we provide that are all about empowering our members.
Become a First Alliance member today!
Advisor Supported Kiosks
If you've visited a First Alliance Credit Union branch in Rochester, Byron or Stewartville in the last couple of years, you might have noticed the new Advisor Supported Kiosks we've installed in the drive-through lanes and in the lobby.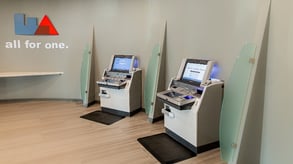 By this point, it's common knowledge that these Kiosks let you do most of your banking by yourself, from depositing checks to transferring money between accounts, and our Kiosk Advisors are there to help you perform more complex banking activities and give you support if you're having trouble. You're probably also aware that you can access these kiosks 24/7.
What you might not be aware of is that these Kiosks are not only convenient, they're also empowering. You're not asking someone else to put money in your account for you or moving money to a different account, you're doing it yourself, and you're doing it on your schedule. That means you can worry less about getting to one of our branches during normal business hours and focus more on what you want to do with your money.
Online Banking Platform and Mobile App
While our Advisor Supported Kiosks are a great way to manage your accounts, there are some times you might not be able to get to a First Alliance branch. Maybe you're on vacation or you've just changed into your pajamas or you're sheltering in place due to a global pandemic. Regardless of the reason, you can always sign into your online bank account or use our mobile app to manage your First Alliance account.
It's hard to overstate just how empowering this can be. You get to see all your accounts, including loans and credit cards, laid out in front of you, complete with their balances. Even better, you can name all your checking and savings accounts, so you know the purpose of each one.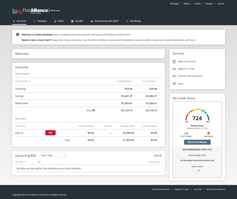 Of course, your online bank account also lets you take advantage of our electronic bill pay service. While being able to pay your bills electronically is convenient, it's also empowering to see what you're paying to who each month. Once you have that information, you can use it to help create a budget, look for ways to reduce your payments and even choose what bills you want paid automatically so you can focus your attention on more important financial matters.
Resource Center
Perhaps one of the most overlooked self-help features of First Alliance Credit Union is our Resource Center. This has all the things you'd expect to find in a financial institution's resource center, including membership application and direct deposit forms, as well as more technical documents such as a list of our service charges and funds availability policy.
Look a little further, though, and you'll find links that give you discounts on everything from tax preparation software to insurance policies. You'll also find financial calculators that help you figure out if you can afford that auto loan, how much you'll be able to earn through compound savings and even a budgeting calculator. We've also got tutorials, links to our blog and podcast, ultimate guides that give you a solid foundation for financial success and downloadables that help you plan your financial goals, switch banks and pay off your debts.
These resources are nothing less than financial rocket fuel, designed to put financial success firmly in your grasp. Admittedly, they won't make you as successful as winning the lottery, but they will help you maximize the effectiveness of the money you have, and that will put you well ahead of most Americans.
How financially fit are you?
Take Control of Your Finances With First Alliance Credit Union
When you become a member of First Alliance Credit Union, you're getting access to some amazing self-help tools that are all meant to take your finances to the next level. Once you've used our Advisor Supported Kiosks, looked at your online banking account and checked out our resource center, you'll start to get empowered to take your finances into your own hands.
What you do from here is up to you. Building up your savings and creating a budget are both solid choices that offer immediate benefits, but you could also figure out a way to eliminate your debt, save up for that new car you've always wanted or even gauge your level of financial fitness and figure out the next steps to take.