Banking used to be associated with standing in line in a financial institution's lobby and making small talk with a teller while they deposited your check or withdrew money from your account. In the 21st century, though, financial institutions also offer online banking platforms as a new way to manage your finances. While in-person banking will always have a place, online banking has some advantage that makes managing your money a lot easier.
Advantage 1: Access Your Account at Any Time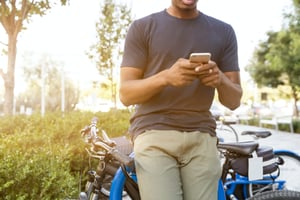 The most obvious advantage of online banking is that you don't need to visit the branch of a bank or credit union to access your account. Just log into the online banking platform (or use the mobile app if they have one), and you'll be able to access all the accounts you have with your financial institution.
It's hard to overstate how useful this is. Having your most current account information in front of you can be a huge help when creating and reviewing your budget, but it's also useful when you want to set a financial goal, like making a major purchase or going on a long vacation. You can also make sure a bill has been paid or just make sure you have enough money in your account to go have lunch with your friends.
Advantage 2: Easily Transfer Money Between Accounts
Most online banking platforms let you transfer money between your accounts. This is a lot more convenient than visiting a financial institution's branch, and it also gives you more control over your money. You can transfer money from your checking account to your savings, and if you have a credit card or loan with your bank or credit union, you can also make a payment using their online banking platform.
Advantage 3: Check Your Financial Health
A number of online banking platforms, including First Alliance Credit Union's, will also let you check your credit score in addition to monitoring your accounts. This can be very helpful, especially if you're trying to raise your credit score before you apply for a loan or a mortgage.
Advantage 4: Easily Pay Bills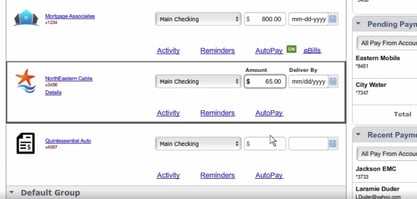 Most financial institutions' online banking platforms offer an electronic bill pay service. This service is not only convenient and efficient, it's also an easy way to track which bills you have to pay and reduces the chances you'll miss a payment. If you want to eliminate missed payments completely, you can also set up automatic bill payments
Advantage 5: Deposit Checks
If your financial institution has a mobile app, you may be able to use it to deposit checks. This is much more convenient than driving to the nearest branch of your financial institution, especially if someone gives you a check when you're out of town.
Take Your Finances to the Next Level With First Alliance Credit Union Online Banking
Online banking is an incredibly useful tool. It gives you essential money management tools at your disposal any time you need them, and it can help you be more organized with your finances.
If you're a First Alliance Credit Union member, enroll in our online banking and download our mobile app. Our platform contains a robust set of banking tools, including our My Money tool, which will help you track the activity in all of your accounts even if they are from another different financial institution, and Zelle, which lets you send money to people you know and trust.