Bank vs Credit Union…what's the difference? On the surface banks and credit unions can seem very similar. Both banks and credit unions offer financial services like checking accounts and loans. Your accounts are federally insured up to $250,000 at both institutions. They both offer access to your accounts online or at a branch. It isn't until you dig a little deeper that you develop a true understanding of the fundamental difference between a credit union and a bank.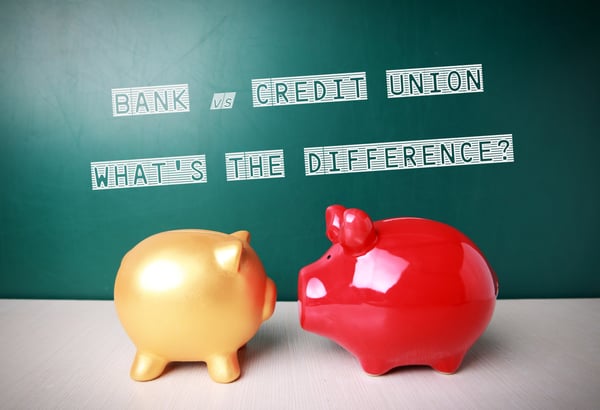 The Major Differences Between Credit Unions and Banks:
The Credit Union Philosophy
While every credit union has their own way of conducting business with their members, they all adhere to the principle of "people helping people". The meaning is simple; credit unions exist to promote the financial well-being of their member-owners. A credit union's goal is to serve all of their members with equal dignity, because every single member matters at a credit union. Because of this philosophy credit unions are more likely than a bank to work with people facing financial struggles and provide educational resources to their members, usually for free. Basically, the credit union philosophy is equivalent to the golden rule, "treat others the way you want to be treated." Because of this attitude many credit union members will tell you they feel like a part of a family with their credit union. There is no industry wide philosophy for banks to guide them.
That "Local Feel" of a Credit Union
Credit Unions are community based organizations. Some credit unions have a broader national community that they serve (like these credit unions), while other credit unions serve hyper-localized communities based on attributes like geographic location, employers, schools, or even places of worship. Each credit union's field of membership is a little different, and depending upon where you live you may be qualified to open an account at more than one credit union in your area. At the end of the day, no matter what a credit union's field of membership is focused on, their members share a common connection that allows credit unions to reflect and adapt to the needs of their specific communities, giving credit unions of any size a local feeling that cannot be easily replicated, even by a smaller bank.
Who Runs This Place Anyway?
Similar to banks, credit unions are governed by a Board of Directors. However, there are two key differences to the Board of Directors at a credit union versus a bank:
Again, these differences may seem subtle but they genuinely make a difference in the way the organization is run. A volunteer Board is there out of passion and commitment to the credit union's philosophy, not to collect a paycheck.
They are voted on by the membership every year at the credit union's annual meeting. They are accountable to their peers and fellow members, not a group of people who may not even hold accounts at the institution. These two differences combined, in essence, means that credit unions are owned and controlled directly by the people who use their products and services every day. Banks are owned and controlled by their stockholders, whose only concern is profit.
Where Does All The Money Go?
Credit unions and banks both make money in similar ways, like through the interest collected on loans or service fees. The key difference between banks and credit unions however, is what they do with those profits.
A credit union is a not-for-profit entity, while banks are for-profit entities. This means that when a credit union makes a profit it is returned to its members, where as a bank's profits are split among stockholders not account holders. The profits from a credit union are returned to its members in many ways, but most typically, through higher-yields on savings accounts, lower interest rates on loans, and no or low service fees.
What Makes A Credit Union Different From A Bank – Summary
While banks and credit unions can seem very similar at first glance, the major difference between banks and credit unions is that guiding philosophy of "people helping people," it shapes how a credit union operates at their very core and positively affects every level of the organization. Banks do not have an industry-wide guiding philosophy like credit unions do.
Credit unions are:
Community Focused
Not-for-Profit
Member Focused
Financial Cooperatives
Owned and Controlled by Members
Federally Insured by the NCUA
Because a credit union is all about helping people, they are often the best option for just about any financial situation you will find yourself in throughout your life time. So, next time you're in need of some financial guidance, try your local credit union. You'll notice the difference, and credit union vs bank will no longer be a question in your mind.
---
Want to know more about the differences between credit unions and banks? Check out Episode 2 of our Good Money Moves Podcast - What's the Difference Between a Bank and a Credit Union?