One of the happiest events in almost any couple's lives is getting married. It's also one of the most expensive. Paying for the venue, the catering, the decorations and even the transportation can quickly add up to tens of thousands of dollars.
The cost of a wedding can cause many people to have serious doubts about whether they can put aside enough money for anything more than a modest ceremony. However, there are ways to reduce the cost of your wedding without feeling as though you're sacrificing an important aspect of your special day.
Get started setting financial goals today!
Get Married During the Off Season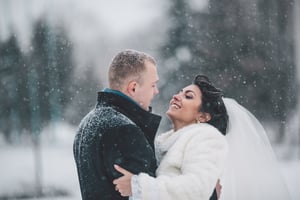 People tend get married not just during certain months, but also certain days, including October 22, May 21 and June 18. If you can pick a day for your wedding that falls outside the popular days to get married, you could end up saving a lot of money.
One of the best ways to start saving on wedding costs is by getting married on a weekday instead of a weekend. Most people try to select a weekend wedding since it's easier to fit into their schedule, which means most venues will have their weekdays free. You'll also want to look into getting married in the winter, especially January through March.
Attend Trunk Shows
According to humorist Dave Barry, spending $2,000 on a wedding gown will get you a bunch of used handi-wipes sewn together by preschoolers. While shopping for wedding dresses isn't quite that ludicrous, it is true that a wedding dress is a huge expense.
Enter trunk shows, where bridal salons showcase a wide range of styles from a specific designer that attendees can peruse. Even more importantly, they may offer the dresses they display at a discount if you buy one at the show.
Hire Students
Wedding entertainment doesn't come cheap. If you happen to live near a college, though, you might want to see if any students from the university's music school would be willing to play your wedding. If you go this route, prepare to be amazed at all the choices you'll have, and get ready to make some student group's day. It's a great way to save money, get some quality entertainment and build up the confidence of students looking to play music professionally.
Get Creative With Your Venue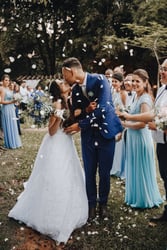 Perhaps one of the best ways to save money on a wedding is by getting creative with where you hold it. One way to save money is by holding the wedding and the reception in the same place. The venue might be willing to give you a deal for holding both events there, and at the very least you'll get rid of the cost of transporting the wedding party from one place to the other.
If you have a backyard, you might also want to consider using it for your wedding to reduce costs, especially if you want to get married in the summer. You'll want to keep an eye on the weather, of course, but it's hard to beat the appeal of holding a reception on a nice summer evening.
Have the Wedding of Your Dreams With First Alliance Credit Union
Weddings can be expensive, but fortunately there are a lot of ways you can save on costs. By getting married in the wedding off-season, attending trunk shows and getting creative with where you hold your wedding and reception, you can start to make your wedding expenses more manageable.
If you're thinking of getting married, become a First Alliance Credit Union member today to make funding your wedding easier. You can start by using our traditional savings accounts to put aside money for the big day, then take out a personal loan or personal line of credit to cover the rest of your wedding expenses.
Become a First Alliance member today!