So you've come up with an idea for a new business. But where do you get the money to get your business started?
If you're intimidated by the step of gaining funding for your business idea, you're not alone. A lot of would-be entrepreneurs have no idea where to find money for their new business, and it can prevent many of them from following through on their business dreams.
Fortunately, there are several ways entrepreneurs can fund their business idea. Once you know what they are, you'll have an easier time figuring out how to make your business dream a reality.
Tap Your Savings
The first place almost every entrepreneur looks to fund their business ideas is their own personal savings. Using your personal savings has a lot of advantages over other types of funding. It can free you up from having to make monthly repayments on a loan, for instance, and you can also retain sole ownership of your business.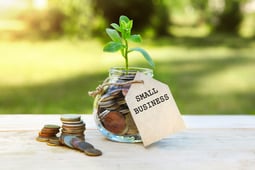 Having said that, most entrepreneurs just don't have enough money to fund their business idea themselves. If you fall into this category, you'll have to decide whether you can save up enough money to fund your small business idea, or whether you should seek outside help.
No matter what you decide, though, do not dedicate all your savings toward your business, especially not your retirement accounts or your emergency fund. In fact, before starting your business you should make sure your emergency fund has at least a year's worth of living expenses in case your business has a rocky start..
Talk to Friends and Family
If you can't fund your small business idea yourself, you might be able to get some help from your friends and family. This can be a better option for some small business owners, especially since friends and family might be more willing to take a risk to help you achieve your dreams.
However, borrowing from friends and family does have some significant risks. If you can't pay back the money you borrowed, you risk hurt feelings and falling out with people who are important to you. You can help avoid this outcome by coming up with a business plan before you ask for money. Make sure it includes:
How you'll make money with your business
How much money you'll need
How you'll use the money you raise
When you expect to repay people
Whether or not you'll repay the money they loan you with interest.
You'll also need to draw some clear lines about what the loan will and will not entitle your friends and family to receive. Some people may think their loan also allows them to get free services and product from you, and they may get upset if you disagree.
Get a Loan From a Financial Institution
One of the most common ways entrepreneurs get funding for their business idea is by getting a business loan from a bank or credit union. You can even use a business loan calculator to make sure you get a loan with an affordable monthly payment. However, just because you apply for a loan doesn't mean you'll automatically get one.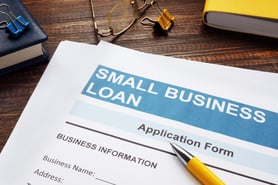 When you fill out a loan application, you'll want to make sure you have the proper business documents, such as your business Tax ID number, legal paperwork that shows when your company was formed, and potentially even two years' worth of personal and business tax returns. Some financial institutions may also require a copy of your business plan, but even if they don't you may still want to include one. It will show the financial institution that you're serious about making your business work.
Looking for expert business guidance?
Our team is here to help.
Apply for a Grant
When you get a grant, you're essentially getting free money from an institution, usually the state or federal government, that you can use to fund your business. Having said that, getting your hands on the "free" grant money can require a lot of work.
If you'd like to get a grant to fund your small business, the first thing you'll have to do is figure out what grants you're eligible for. One of the best ways to do that is by contacting the United States Small Business Association which will be able to help you out what grants are available for your business. You can also research grants on your own by going to Grants.gov..
Once you've selected the grants you'd like to get, you'll need to apply for them. The application process is going to be different for almost every grant, so you'll need to read through the instructions for applying to each grant thoroughly, and make sure you follow them to the letter.
Finally, make sure you have a backup plan. Getting a grant to get start or improve your small business is definitely a worthwhile endeavor, but don't forget that you'll be trying to stand out from hundreds of other entrepreneurs who want that money too.
Fund Your Small Business With First Alliance Credit Union
Getting funding for a small business can be a daunting prospect. However, there are several ways an entrepreneur can get money to turn their business idea into reality, from getting a business loan to asking for help from your friends and family.
If you need help getting your small business funded, become a member of First Alliance Credit Union today. We offer business loans that can help you purchase much-needed business assets, such as furniture and business vehicles, as well as commercial real estate loans that will help you buy not only a brick-and-mortar store, but also rental houses and apartment complexes.