While there are many reasons people seek to be more energy efficient, most people do it to save money. If your energy bills increase during the winter, you may want to consider using these five tips to save on energy bills this winter.
1: Make Your Fireplace More Efficient

Although they might have a classic look, most fireplaces are inefficient when it comes to heat conservation. Chimney openings can be one of the leading causes of heat loss during the winter. This makes things more challenging for your fireplace, causing it to work harder to keep your house well heated.
If you are looking to save on energy bills this winter, consider redesigning your fireplace so that it dissipates less heat and allows less cold air into your house. If you cannot afford to invest in the refurbishment of your fireplace, you can close the damper of the chimney as a short-term solution
2: Close Drafts
We often turn up the heat in our homes while ignoring the small leaks throughout the house. Leaks can be found around windows, doors, exhausts, pipelines and wiring. These leaks may seem small, but combined they might be the size of a large window. If you close these drafts, you could save considerably on your energy bills.
3: Tune Up Your Heating Systems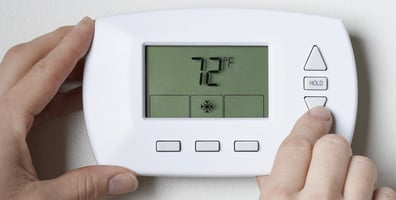 Another great way to save on energy costs is to keep your heating appliances tuned up. Heating systems lose their efficiency if not properly maintained, especially after using them rigorously. A little investment on tuning up your heating gear can save you hundreds of dollars. We recommend hiring a qualified HVAC professional to tune up all your heating appliances.
4: Buy Quality Appliances
Generally speaking, this applies to everything you buy. When you go for low prices, you often compromise on performance and durability. In the case of heating appliances, saving a few bucks by purchasing low-quality equipment may not be the best idea. Your home's furnace and air conditioning unit are usually one-time investments. Therefore, you should look for quality and stress less about the price tag. It doesn't mean that you must put all your savings into it as there are a lot of reliable, yet affordable, heating appliances that come with the quality you need.
5: Insulate Your Walls and Attic
Although there is some considerable investment involved, the benefits are long-term. When you insulate your walls, doors, and attic, you can save a significant amount on your energy bills. This means that any investment to improve the insulation will be paid back to you in the form of lower energy bills. The insulation not only helps during winters, but also in the summers when you run air conditioning. So, don't hesitate to invest in the insulation of your home.
Keep Your Costs Down With First Alliance Credit Union
Investing a little in your house and heating appliances is one of the best ways to save money (and earn interest on that money when you're saving it) when winter comes. Need help winterizing your house? Consider a personal line of credit or no hassle loan from First Alliance Credit Union to help you keep your home warm and toasty at an affordable price.
Working on your budget? Let us help!