One of the best things about the winter holiday season is all the activities you can do, like going to a local shopping event or attending a Christmas play. Unfortunately, though, a lot of these activities require cash, and for everyone from baby boomers to gen z, money can be tight after buying holiday gifts and decorations.
Fortunately, there are plenty of holiday activities that don't cost a lot, if anything. A lot of them are also fun family activities.
Affordable and Fun Family Holiday Activity Ideas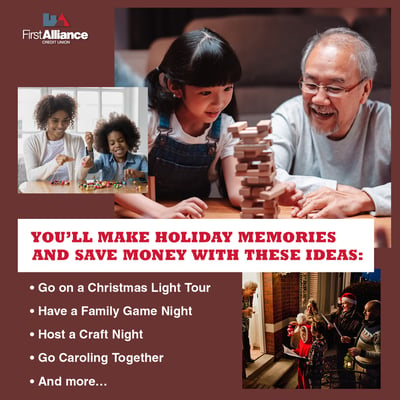 While the holidays can be expensive, not everything you do to make memories with your loved ones has to cost hundreds of dollars. There are many fun and affordable family friendly activities you can do together over the holidays. Check out these 6 easy ideas for family fun over the holiday break.
Go Christmas Light Viewing
It doesn't cost much, if anything, to drive around and see how people have decorated their houses for the holidays. It's fun, and who knows—you might just make one of your new years financial goals to buy Christmas lights next year for a display of your own.
Get started setting financial goals today!
Family Game Night
A family game night brings together family members of all generations and is an ideal way to spend a cold winter evening. Some good family games include:
Uno
Settlers of Catan
Sorry
Carcassone
Ticket to Ride
Tribond
Azul
You can also use family game night to teach children about finances with board games such as Monopoly and Life.
Get Crafty
Gather the family around and have them make holiday decorations. You can make paper chains and popcorn chains, or you could even have the entire family work on creating Christmas cards. You can also make:
Pomander balls (fruit with cloves)
Wreaths
Paper snowflakes
Paper bag snowman puppets
Twig ornaments
Personalized stockings
Clothespin characters
Go Caroling With Your Family
If you and your family love singing, go out and bring some joy to your friends. Pick two or three carols that everyone knows, and then go to different houses and sing. If you're invited in for hot chocolate, coffee and cookies, definitely take the offer.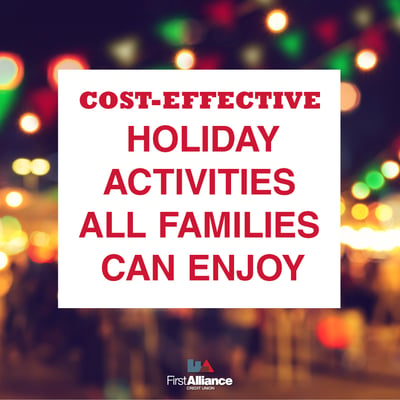 Do Some Cooking
Baking Christmas cookies is a great way for families to spend time together. If you and your family are feeling more ambitious, you could even cook a whole meal together and keep a little extra money in your budget that would otherwise be spent on restaurants.
Movie Night With the Family
Pop some popcorn, change into your pajamas and get the blankets. You can even make this a competition with your family and have the person who gets their chores done first be the person who gets to pick the movie to watch that night.
Questions about affording for the holidays? Let's talk!
Enjoy the Holidays With First Alliance Credit Union
December brings with it holiday activities for people of all ages. However, a lot of them cost money. However, there are several holiday activities, from family movie nights to making arts and crafts, that won't give baby boomers or gen z money worries.
If you need some help paying for holiday expenses, become a member of First Alliance Credit Union. Our financial goal planner will help you to save for the holidays earlier, and our club savings accounts are a great way to save for the holiday season over several months. We also offer credit cards with no annual fee and a reasonable interest rate in case you need some additional help.