It's June, and that means it's Pet Month at First Alliance Credit Union! We are celebrating your furry family members all month long! Check out all of the awesome ways you can celebrate with us - from photo contests and donations to dog treats and savings accounts, Pet Month is a tail wagging good time!
We know what your thinking: "What do pets have to do with finances?" The answer: A lot! People spend billions of dollars on their pets every year. From vet costs to grooming and accessories, our pets can take up a large portion of our time and money - but we of course wouldn't have it any other way! So, because we know how important your fur-babies are in your life we are dedicating June as Pet Month once again!
---
For starters, we want to see photos of your pet!
Whether they are furry or scaly, have paws or hooves, we want to see their adorable faces! Submit your pet's photo for a chance to win an $100 gift card to Leashes and Leads!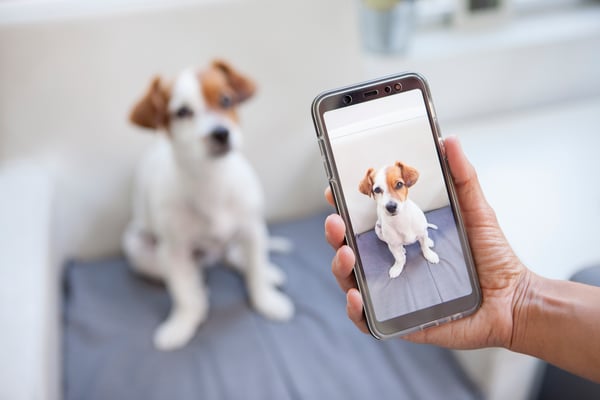 The $100 gift card can be used towards any of Leashes & Leads grooming, training, boarding services or use it to purchase pet supplies! What a awesome way to pamper your pet! Use the button below to submit your pet's photo before June 30th for a chance to win with our Pet Month Photo Contest! You can check out last year's winner here.
---
---
Since you love pets...
We thought you would also like to know, for every new membership account opened in June we will be donating 10 pounds of pet food directly to Paws and Claws Humane Society!
Last year we were able to donate 2,000 lbs of pet food to Paws & Claws. This year we want to make it 3,000 lbs! ReFUR your friends and family to First Alliance Credit Union to help us make a HUGE impact for our local animal shelter. Paws & Claws relies 100% on donations from the public to continue supporting and caring for the homeless animals in our community.
---

---
We know pets can be expensive...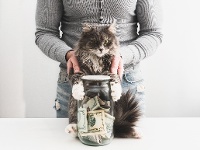 Pets are the best, but they cost a lot of money. From vet visits and grooming to pet insurance and obedience classes, the ongoing costs to care for your furry family member add up fast. If you're not planning ahead and budgeting for these reoccurring costs it can quickly create a financial nightmare.
Which is why, we are so excited to be able to introduce a new way to help you plan and save for your pet related expenses - the Pet Savings Account at First Alliance Credit Union!
Higher interest rate than a typical savings account
No monthly fees or charges
No minimum balance requirements
Accessible from within Online Banking and our Mobile App
PLUS: We will donate $10 to Paws & Claws Humane Society for every new pet account opened (all year round, not just in June!)
Our new Pet Savings Account is designed to help you keep your pets, and your wallet, happy and healthy. Start planning for your next vet visit by opening a pet savings account. Have questions? Just ask, no question is too big or too small.
---
---
Homeless pets in need of love...
Last year we joined the Paws and Claws Guardian Angel program, this year we are once again helping some very special pets find their fur-ever homes! Maybe it will be yours? We are paying the adoption fees for some furry friends at Paws and Claws! Meet these amazing pets patiently waiting for a loving family to call their own: Ryan, Dolche, and Deliliah & Alyria.
ADOPTED!! - About Ryan the Cat
The name Ryan means "little king" or "illustrious". Ryan is a good-looking solid, young adult cat who was found out on his own in NW Rochester. He's shy right now and prefers to stay in his kennel most of the time. When he's given time out he tends to hide. If someone coaxes Ryan, he'll come out and sit in a lap and enjoys having someone pet him. He is not too fond of the other cats at the shelter and seems kind of overwhelmed by them. Ryan needs a quiet home where he can have space to chill out, so he can grow into being the king of the castle.
About Dolche the Dog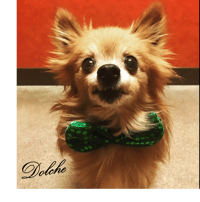 Meet Dolche! Dolche came to Paws and Claws when his family was no longer able to care for him. He's a sweet, senior, Pomeranian that would really love to be back in a home of his own. He's a bit nervous here at the shelter, which is understandable as his whole life has been turned upside down. He will do best going into a quiet home where he can settle in and feel safe. He would do best in an adult home, or a home with older children that can respect his space. Dolche is not too fond of other animals, he had an unfortunate run in with a large dog in his previous home, and he thinks that cats look like fun to chase. He will do best having a fenced in yard, as he can get worked up and vocal when other dogs pass by his house. He just wants to protect himself and his home! If you think that this sweet boy is the one for you, come meet him! Dolche has some medical conditions that come along with age. He's on medication that he will need to continue for life.
ADOPTED!! - Deliliah & Alyria, Sister Dogs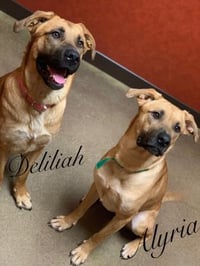 Meet Alyria and Deliliah, two sisters who are young German Shepherd/Mastiff mixes that are looking for a new home together. These girls came to Paws and Claws when their owners could not give them the care and attention that they needed. They are young, and large, dogs that would benefit from going through some basic obedience classes to help brush up on their manners. They are nervous, but gaining confidence as they settle in. Both girls are making friends with the staff and volunteers, and enjoys playtime with their doggie friends! Delilah and Alyria cannot wait to find their forever home together.
Contact Paws and Claws directly for more information about these adorable pets and all the other's they have available for adoption! We will make sure to update everyone our Facebook page once our special friends have found their new homes!
---
Did you know...
When you bring your pups through any of our drive-ups, we will give them a special treat all year long! Your pets are an important part of your family, we want them to enjoy visiting the credit union too!