First Alliance Credit Union donated $8,500 to the Rochester Public School's Student Nutrition Services. The funding will be used to pay down delinquent lunch accounts across the district, providing needed financial relief for many local families.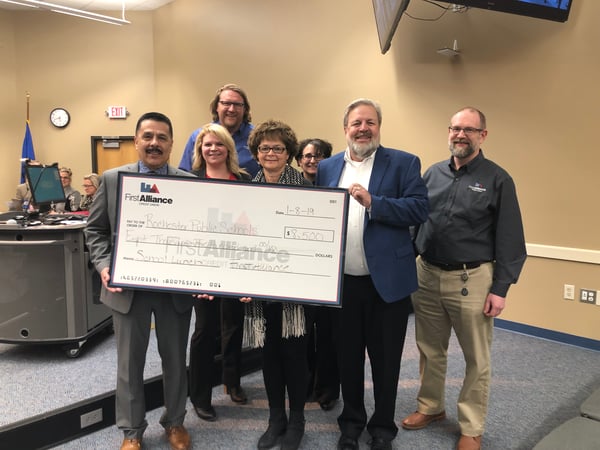 "Partnerships are essential to achieving our vision for student success. Rochester Public Schools expresses sincere gratitude for our generous community partner, First Alliance Credit Union," said Michael Muñoz, Superintendent of Rochester Public Schools.
Approximately 35% of families in Rochester Public School district qualify for free and reduced price lunches. Across the district 25% of the negative balances owed originate from students already receiving reduced price lunches.
"Our goal as a credit union is to give back to the community that supports us," First Alliance Credit Union's President/CEO, Michael Rosek said. "Helping families who are struggling financially is where we believe we can make the greatest impact."
The donation will be used exclusively to pay down account balances for over 300 families who qualify for reduced price lunches, yet are struggling to pay back the remaining balances. The district will determine exactly which of those lunch accounts to allocate the funds towards to make the greatest impact for local families.
---
---
About First Alliance Credit Union
First Alliance Credit Union is the original credit union in Rochester, Minnesota, founded in 1932 by Rochester firefighters and a school teacher. Membership is open to everyone who lives, works, worships, owns a business or attends school in Olmsted, Winona, Wabasha, Dodge and Goodhue counties.
About Rochester Public Schools
The Rochester Public School district is the 7th largest in the state, serving 18,178 students. Their mission is to inspire, challenge, and empower all students with the knowledge and skills required to reach their full potential, to contribute to future generations, and become involved members of a global community.