Do a quick search online about buying a car and you'll find hundreds of articles talking about every aspect of buying a car from pre-shopping research to getting the best rate on an auto loan. However, there's one major aspect of buying a new car that is relatively ignored—transferring the car's title.
Transferring a title seems like a simple process at first glance. If you buy the car from a dealer, it actually is. In that case, the dealer will handle the paperwork, and you'll receive the vehicle title from your state's Department of Motor Vehicles (known in Minnesota as Driver and Vehicle Services) in the mail.
If you're buying or selling a car yourself, however, you'll need to navigate your way through transferring the car title. While it isn't complex, you will want to get it right the first time. Otherwise, you'll have to get a duplicate title and try again, a process that can take weeks.
Fortunately, transferring the title isn't complex. Almost every state's car title has a section on it dedicated to transferring ownership with clearly marked areas for the buyer and seller to fill out. In addition to the buyer's and seller's printed names, addresses and signatures, you'll also have to put down:
date of sale
vehicle's sale price
odometer mileage of the vehicle at time of sale
Once you've filled out that section, you're almost finished. However, there may be some more steps you'll need to take in order to transfer the car title. What those steps are depend on whether you're the buyer or the seller.
Vehicle Titles If You're Selling a Car…
If you're the seller, make sure you know whose names are on the car's title. If your name is the only name on the title, your signature is the only one that's required.
In many cases, though, two people may own the car jointly, such as a married couple. If this is the case with the car you're selling, check to see how the names are listed on the title. If the two names have an "and" between them, you'll need the signatures of both people in order to transfer ownership. If the two names have an "or" between them, though, either person can sign the title.
If there's still an open car loan on the car you're sending, the lender's name will be on the title as well. You'll have to settle the loan before you can sell the car. Contact your lender, ask them how to sell a car that has a loan, and follow their instructions.
You may also need to complete a disclosure statement. While you've already filled out one disclosure statement when you recorded the odometer's mileage, you may have to fill out a second disclosure if the car was in an accident. This is required for all vehicles, although certain exceptions apply. If the vehicle:
Is at least six years old
Is a commercial vehicle with a gross vehicle weight of 26,000 pounds or more, like a moving van or a semi-tractor
Then you don't have to fill out a damage disclosure.
You'll also have to fill out a report of sale and submit it to the Minnesota DMV.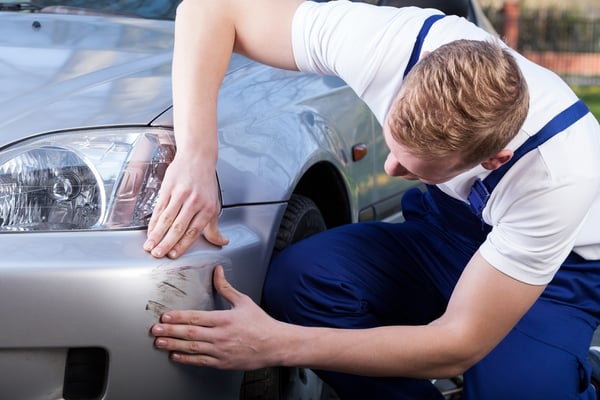 Vehicle Titles If You're Buying a Car…
If you're buying the car from a private party, you'll need to complete a few more steps after putting down your name and information.
The first thing to do is make sure the names and necessary personal information of all the buyers are on the title. This is especially important if you will own the car jointly with your partner.
Next, make sure you have your actual physical address on the title. If your post office will only deliver mail to a post office box, you'll need to present the DMV with a written statement to this effect when you give them the car title.
If you're buying a motorcycle, you'll have to write the engine number on the face of the title.
If the vehicle is operated commercially and the gross weight is over 10,000 pounds, you'll also need to get a USDOT number.
Summary of Transferring Vehicle Ownership
Transferring a title can seem like bureaucratic mess, but the truth is as long as you know the rules and follow the instructions, you'll have an easy time transferring the title of the car.
If you need a new car, contact First Alliance. Whether you're buying from a dealer or individual, let our lending officers help you get the best possible rate on an auto loan—and one step closer to your new ride.
---