Logan Otomo decided to create his own towing company in Austin, MN three years ago because it let him do the things he liked the most.
"I always liked being around cars," he said. "I also like helping out people in a stressful situation."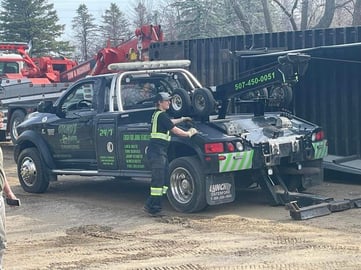 When Logan started Otomo Towing, he had one rollback truck that he used to haul away broken-down cars from people's homes. It didn't take long for him to expand his services.
"I just thought, why don't I start providing a service for towing and providing roadside assistance, tire changes, lockouts and anything that other towing services offer?" he recalled.
However, the rollback tow truck limited the types of jobs he could do.
"A rollback can't fit into small spaces," Logan explained. "It also can't winch a vehicle out of a ditch. I needed to get smaller tow trucks to take my business to the next level."
In order to get more wreckers, Logan would have to get a loan. However, a lot of banks didn't see his business as a worthwhile investment.
"When you see that someone who has only been in business for a year wants a business loan, they usually say 'Well, let's wait for you to be in business a little longer," he said.
That's when he turned to First Alliance Credit Union, who had helped him before.
"When I was 18 or 19, I was with Wells Fargo, and I was just not happy," Logan revealed. "I couldn't even get a simple car loan. Then my buddy recommended First Alliance Credit Union, and they were awesome. I ended up getting my first car loan through them, and I've been banking with them ever since."
According to Logan, the process of getting the business equipment loan was easy, thanks to the business lending team.
"I reached out to Rosalina [Fombuena] at First Alliance Credit Union," he said. "I told her my story, and she had faith in me. I filled out the application, and whenever she had questions she would either call or email me. She really went to bat for me, and she did a lot of extra work."
With the business equipment loan, Logan was able to buy a light duty wrecker and a medium duty one. Both trucks have helped Otomo Towing take off.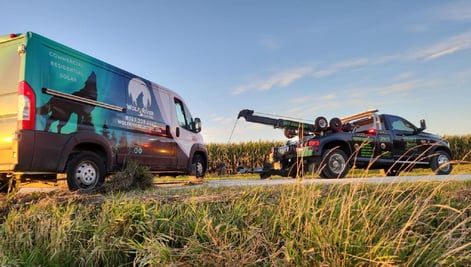 "As soon as I bought the trucks, I was using both of them," he said. "I was hauling a lot of people out of ditches, and I was able to go on a lot more calls."
Having multiple tow trucks also meant that Logan could hire an employee to help him answer multiple calls, bringing in even more income. He even took out another loan to buy a building for his business.
"It's showing the community that I'm here to stay," he explained. "I'm investing in my business, and a lot of the community members in Austin have seen that."
Logan recommends any small business who needs help contact First Alliance Credit Union.
"What I needed to start my business was someone to believe in me so I could get the funds I needed," he said, "and that was you guys at First Alliance Credit Union."
Apply for a First Alliance business loan today!