As part of First Alliance Credit Union's 2nd Annual Pet Month initiative, the credit union pledged to donate 10 pounds of pet food to Paws and Claws Humane Society for every new membership account opened in June. The credit union is proud to announce they are able to supply the animal shelter with another 2,000 pounds of pet food. The credit union will be spreading the food donation out over four months to ensure the shelter's needs are being met as new animals arrive and are adopted out.
Paws and Claws Humane Society has been a safe haven for homeless pets for over 40 years, and is the largest animal shelter in South East Minnesota that does not limit the stay of the animals that come into its care. Paws and Claws is funded completely on private donations and receives no government funding.
Tanya Johnson, Shelter Manager at Paws and Claws Humane Society shared her appreciation for First Alliance Credit Union's support by saying, "We are very grateful for the friendship and generosity the credit union has shown to Paws and Claws, our animals, and our mission for a second year."
In addition to donating 2,000 pounds of dog and cat food, First Alliance Credit Union also helped Paws and Claws Humane Society find homes for a set of bonded pair sister dogs and a young cat, by covering their adoption fees last month. They also covered the adoption fees for a senior dog, Dolche, who is still waiting for his family.
Plus, with the introduction of their new Pet Savings account the credit union pledges to donate $10 for each pet account opened year-round. The credit union will be making an initial donation of $70 to the shelter from the pet savings accounts opened in June.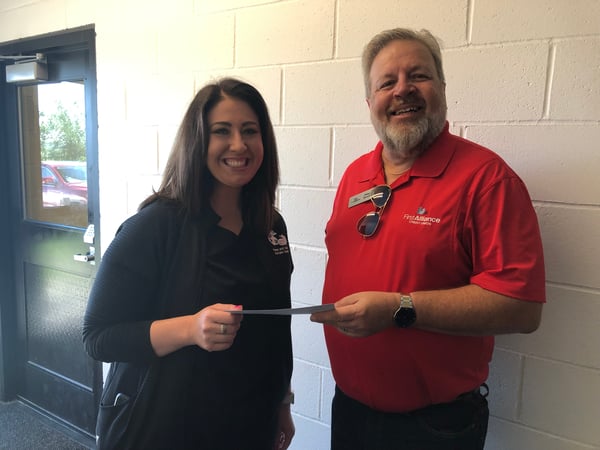 First Alliance Credit Union's President/CEO Michael Rosek said, "We are thrilled to be able to support Paws and Claws Humane Society by providing them with much needed food, supplies, and funding. Paws and Claws has been a valuable resource in our community and we are proud to support their mission with our Pet Month initiative."
About First Alliance Credit Union
First Alliance Credit Union is the original credit union in Rochester, Minnesota, founded in 1932 by seven Rochester firefighters. Membership is open to everyone who lives, works, worships, owns a business, or attends school in Olmsted, Winona, Wabasha, Dodge and Goodhue counties.
Check out the live stream of the delivery below!