One of the biggest hurdles to overcome when you first start building up your savings account is figuring out just where the money will come from. This is especially difficult if you have debts to pay off. Should you be putting money aside in savings to be used later when it could be used to pay down your debt faster instead?
Unfortunately there's no answer that applies to everyone, and ideally you should be both paying down your debts and adding to your savings at the same time. However, there are some guidelines you can use when deciding whether to save money or pay down debts.
Always Make The Minimum Payments On Your Debts
When you have debt, your top priority needs to be making at least the minimum payment on all your accounts. If you don't, you're inviting financial mayhem.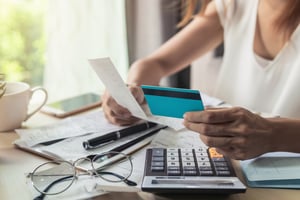 If you're not paying at least your minimum payment, at best you can expect to be charged late fees, which may be substantial. At worst, you may trigger penalty interest rates that are much higher than the original rate. Your credit score may also be lowered, which will make getting another loan a lot harder, if not impossible. You might even lose your house or your car if you don't make payments on those loans.
Pay Off High-Interest Debt First
If you have any debts with an interest rate above 8%, focus on getting those paid off as soon as possible. This type of debt could cost you a lot of money if you let it linger. The most obvious example of this is credit cards, which usually have interest rates in the double digits.
Low-interest loans, on the other hand, were designed to be paid off gradually over time. If you can make the minimum payments on those, you might want to consider putting more of your money in a savings account rather than aggressively paying down these types of debts.
It's worth pointing out that you might be able to consolidate your high-interest debts into one low-interest loan.
Prioritize Saving If You Don't Have Any Money Saved Up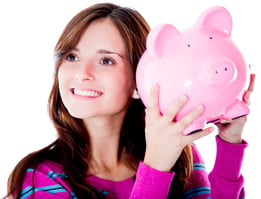 If you don't have anything in your savings account, you should make saving money a priority. The minimum amount you should have in savings is $500, so if you have less than that you'll want to prioritize saving money until you reach that threshold. You might even want to put your money into a savings account with incentives to motivate yourself to meet your savings goals.
Take Advantage Of Employer Fund-Matching Incentives
If your employer has a fund-matching incentive as part of their retirement program, you need to take advantage of it. Otherwise, you're leaving money on the table that would otherwise be going to fund your retirement.
Save for the Future With First Alliance Credit Union
When trying to decide whether to save or pay off debt, you'll want to make sure to at least make the minimum payments to keep all your accounts current and prioritize paying off high-interest debt. You'll also want to concurrently work on your savings if you don't have any money in your savings account.
You can pay down your debts faster and build up your savings when you become a member of First Alliance Credit Union. Once you're a member you can put money into our traditional savings accounts or incentivize your savings goals with a WINcentive Savings account. Plus, you can get a debt consolidation loan to combine multiple high-interest debt payments into one convenient, low interest monthly payment. You can find out if debt consolidation is right for you when you download our free debt consolidation calculator.