For more than half of all college graduates, the clock is ticking down. In October, student loan repayments will resume after the Department of Education paused the payments due to COVID-19. Since the average borrower owes almost $29,000, the payments will take a bite out of budgets that are already tight thanks to factors like inflation, job loss and even medical emergencies.
Unfortunately, there's not a lot you can do about student loans restarting. However, you can take some steps that will help you prepare for student loan payments when they resume.
Here's how to prepare for student loan payments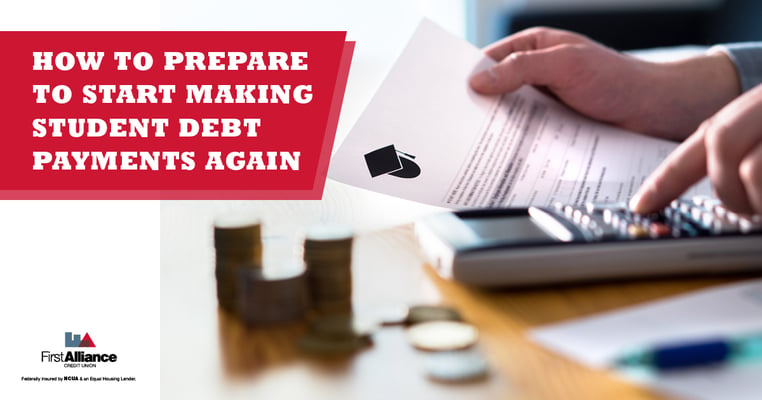 Contact Your Student Loan Servicer
The first step you need to take when preparing to pay back your student loans is to contact your student loan servicer. These are companies the Department of Education uses to handle the billing and payment of your loans, and they are usually your main contact for student loans. Currently the student loan servicers are:
Great Lakes Educational Loan Services
Edfinancial
MOHELA
Advantage
Nelnet
OSLA Servicing
ECSI
When you contact your student loan servicer, make sure they have your current address and contact information. You might also need to update your income information with them as well.
If you have no idea whatsoever who your student loan servicer is, don't worry. You can find out by logging into StudentAid.gov to look at your dashboard. You can also call the Federal Student Aid Information Center at 1-800-433-3243.
While you're making sure your student loan servicer has your most up-to-date information, you should also look over the details of your student loan, especially if you haven't done so in a while.
Got questions about paying off loans? Ask us!
Figure out Your Monthly Payment
Once you've contacted your student loan servicer and made sure your information is up to date, you'll have to select the monthly repayment plan that works best for you. You should do this even if you haven't had an issue with your repayment plan in the past.
The Department of Education has a variety of repayment plans for borrowers in a variety of situations. You can review these payment plans on the StudentAid.gov website, and you can also talk with a representative of your student loan servicer about your options. However, you can also use the Department of Education's Loan Simulator to explore your repayment plan options and get a sense of what you'll have to pay with different repayment programs. You should be aware that there have been changes to the repayment plan options, including the new Saving on a Valuable Education plan (SAVE), which is an updated version of the REPAYE plan.
Make Room in Your Budget
Now that you know what you'll have to pay each month, you need to figure out where that money will come from. Unfortunately, there's no way to get around the fact that this is going to sting. If you have a budget, though, the process will be easier, and it might even be a little less painful.

Your first step should be to review your monthly budget and note which categories you can't cut back on, like rent and utilities. Next, focus your attention on discretionary expenses, like clothing, entertainment and eating out. If you have any budget categories where you don't spend the full amount each month, make cuts to them first in order to reduce the impact of the added expense.
What if I Can't Afford the Payments?
If you know you won't be able to afford the monthly payments, you'll want to reach out to your student loan servicer and inform them. They can advise you on what options you have, such as changing your repayment plan or even consolidating your federal loans to try to lower your payments.
As a last resort, you can get some short-term relief in the form of a deferment or forbearance. Both of these will let you temporarily stop making payments on your loans. If you have a qualifying event, like being unemployed or enrolling in school at least half time, you can apply for a deferment, while you don't need a qualifying event to request a forbearance.
However, this isn't a perfect solution. If you get a deferment, any loans that aren't subsidized or Perkins loans will still earn interest. If you get a forbearance, all your loans will earn interest.
Still, either of these two options will give you a short reprieve. This can give you some space to look over your finances and figure out how to free up more money in order to repay your student loans.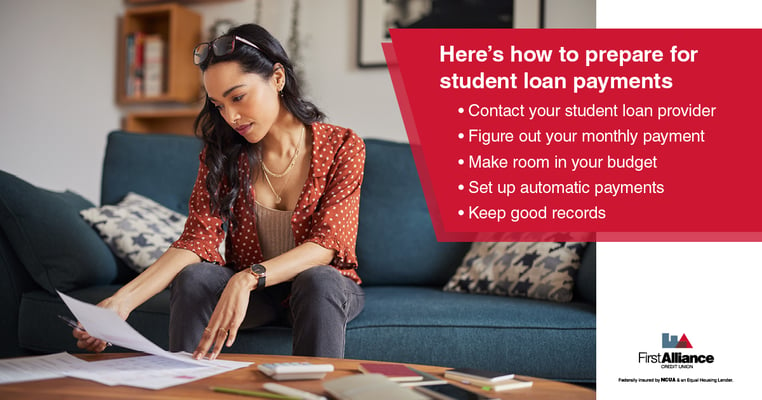 Set Up Automatic Payments
Admittedly, automatic payments aren't for everyone. However, if you'd be okay with making automatic payments on your student loans you should sign up for them with your servicer and get a quarter of a percent taken off your interest rate. As a result, you'll end up paying less on your student loans over time.
Set up automatic payments with a First Alliance Credit Union account.
Keep Good Records
Finally, keep good records. Save the mail that your student loan servicer sends you, and when you're on the phone with a student loan servicer representative, take notes. Write down the date, the name of the person you talked with, why you were calling and how the call was resolved.
This might seem a little extreme, but keep in mind you're repaying thousands of dollars in loans. A mistake on either yours or the servicer's end could end up costing you a lot of money, so you absolutely need to make sure you know where you stand and have the documentation to prove it.
Get Help Repaying Your Loans With First Alliance Credit Union
After a moratorium due to the COVID pandemic, student loan borrowers will have to resume their payments in October. If you have student loans you need to repay, you can prepare by reaching out to your student loan servicer, making sure all your information is up to date, and figuring out what your payment will be. If you can't afford to make these payments, you can see if another repayment plan will give you a lower monthly payment or apply for a deferment or forbearance to give yourself more time.
You can also get help paying off loans when you become a member of First Alliance Credit Union. You can use the My Money feature in our online banking platform and mobile app to get help creating a monthly budget, and you can set up automatic payments in order to reduce your student loan interest.