It's common knowledge that nothing takes the stress out of moving like hiring a moving company to transport your belongings for you. However, when many people hire movers they don't know what they need to do to make the process go smoothly.
As it turns out, there are 10 things you need to do to make sure your moving company experience goes smoothly and without any added costs. They're not difficult, but they are spread out over the entire moving process.
Ask for References
While you're researching moving companies to help you get the best price, you'll also want to make sure you're working with reputable companies. When you reach out to a moving company, ask them for references from three prior customers, even if they have reviews on Google and Yelp.
Once you have their contact information, call up each of the customers and ask about their experiences working with the moving company. Some good questions to ask are:
Did they break any items?
Were they punctual?
Were there any hidden costs?
Get an Accurate Estimate
A good moving company will give you a price estimate based on how much stuff they'll need to move. If possible, have a representative of the moving company come to your home and do a thorough physical walk-through to see all the items you have to move. Be sure to point out any items you have in storage, and make sure to point out anything you won't be taking with you to the new place.
Pack Your Belongings Beforehand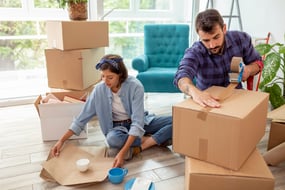 One of the best ways to save money when hiring a moving company is to do the packing yourself. If a moving company has to do the packing, they'll more than likely charge you a premium for the packing materials they'll use, not to mention time and labor. Get your packing done beforehand, and you can save even more money by getting free boxes from grocery stores and big box retailers.
Look Over Your Contract for Extra Costs
Once you're presented with a contract, go through it and look for any extra fees that might be added. A moving company might level extra fees for having to haul items up and down stairs, delivering to a home on a street too narrow for a moving van or even having to haul items of high value, like art or a grand piano.
You should also make sure the time and date for the move is correct, as well as review the inventory the moving company provides to make sure it covers everything that will be transported.
Determine How Much Insurance You Need
If you're worried about your items being damaged by the movers, you might want to look into getting moving insurance. You should know that moving companies do have insurance they will provide for free if you request it, but it won't provide a lot of compensation if an item is damaged. You may want to look into purchasing full value protection insurance but be aware that moving companies usually have a minimum value you'll need to claim on your belongings.
Label Your Boxes Clearly

Make sure each box has its intended location clearly printed on it. This will help the movers unload more efficiently. This is important if your movers are getting paid by the hour.
Make Sure Your Boxes are Portable
You may want to load heavy items, like books, in as few boxes as possible, but if you do you'll be making the movers' job a lot more difficult than it needs to be. Heavy items can also cause larger boxes to burst during transport.
Make Sure the Movers can get In and Out
Make your movers' lives easier by figuring out the best place they can park their moving truck before they arrive. If they'll have to park on the street in a back alley, make sure you know if there are any time limitations and whether or not you can get an exception.
Stay out of Their Way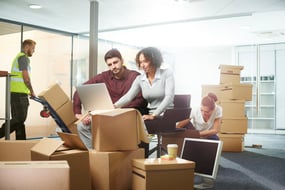 One of the best ways you can help your movers is by getting out of the way and letting them do their job. Most movers are professionals who have a lot of experience moving people to new houses, so sit back and relax.
Don't Disappear
While you should stay out of the movers' way once they start, you should be available in case they need assistance. If you have to leave for a short while, let your movers know how they can contact you.
Get Help Moving at First Alliance Credit Union
Movers can take a lot of the stress out of moving, but you'll still need to know some moving company tips in order to avoid unnecessary complications. That includes helping them inventory your belongings to get an accurate estimate, figuring out if there are any hidden fees to watch out for and taking time to make sure the movers have the space to do their job.
You can also help make your move go smoothly when you become a member of First Alliance Credit Union. Use the free downloadable moving budget in our resource center to keep track of all your expenses, get a personal line of credit to help cover your moving expenses and save up money for your move in a traditional savings account.
Get Help Creating a Moving Budget Today!