If you're in the market for a new or used vehicle, you're probably also looking at financing options for that vehicle. The majority of new and used vehicles are financed, simply due to price. While financing your new or used vehicle at the dealership may seem more convenient because it can all be done in one stop, it's a better idea to shop around for interest rates and get pre-approved before you even enter a dealership lots.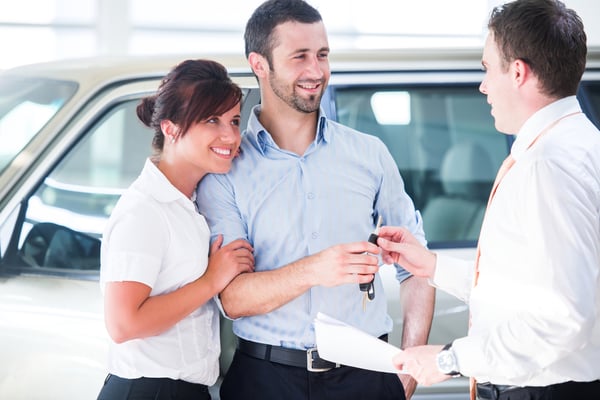 Who Has the Best Loan Rate?
It's hard to say definitively that a credit union or bank will have a better rate than a dealership, but it's highly likely. You should also know that dealer financing really is bank or credit union financing with a middle man. Auto dealerships usually don't finance your loan themselves. Instead, they send your application out to different banks and credit unions to find you a loan.
How Does Dealer Financing Work?
Many car buyers finance at the dealership. You show up, finance the car and drive your car right off the lot. Seems easy and convenient right? However, easy doesn't always mean the best deal for you or budget.
Remember, the dealer is actually sending your information out to multiple financial intuitions at once through a special financing network. Then when one of the banks or credit unions within that network returns a loan offer with terms and a rate, the dealer will typically mark up the interest rate offered as a "finder's fee" of sort.
Here's an example: The dealer sends your application for a $20,000 vehicle to four different financial institutions to get you a loan offer. Let's say the best loan offer they received back from one of the financial institutions is 3.75% at 48 months. The dealer will mark up this interest rate .25% to .50%, or more in some cases, so your rate could end up being 4.00%, or even 4.25%. Even a .25% difference in rate will impact your monthly payment, and more significantly the total interest you pay over the life of the loan. In this specific scenario you could be paying up to an additional $200 in interest.
Looking for a car loan?
Find out what you can afford!
What About 0% Financing Offers from Dealers
When shopping for a new vehicle at a dealership, you may be offered 0% financing for the first few months of your initial financing period. While this may seem like a great deal on its face, there are caveats to be aware of.
You probably won't get any other price breaks on the price of the car, so your payment will be higher because you're paying close to full price for the vehicle.
You're still using the dealership's financing so when the interest rate does kick in; it will be at the inflated interest rate we discussed.
If you have the option, it would actually make far more sense to accept a rebate or discount off the purchase price of the car, and combine that with a lower interest rate loan from your credit union or bank. This way you are paying less in total price and your monthly loan payment will be much lower. Win, win!
Credit Union or Bank Financing for Auto Loans
New and used vehicle loans are actually an area of expertise for credit unions. Vehicle loans make up a significant percentage of the lending business that credit unions conduct each year. This is due to their historically lower interest rates and better customer service ratings.
Plus, if you have a prior relationship with your credit union or bank, a preapproval is quicker and easier. Plus, if down the road you have trouble making payments, you have a local person you can work with. A dealership could give a loan from another a financial institution in another location.
When financing through your credit union or bank, you're also removing the middle man from the transaction. The interest rate you receive will not be inflated to compensate a dealership.
Our Best Car Buying Advice
If you're thinking about purchasing a new or used vehicle go to your credit union first. The lender can provide you with a pre-approval, so you know how much you can spend, you will know your interest rate and payment and you can walk into any dealership with confidence. If the dealer can match the credit union or bank's rate, great, but remember, it's far easier to deal with your local financial institution than it is with a bank that could be located anywhere in the country.