When the time comes to start looking for a new or used vehicle, you will also likely be looking for an vehicle loan. Your credit score matters when getting an auto loan, since it will be the deciding factor for what interest rate you will pay on the loan.
Credit score requirements can vary quite a bit from lender to lender, particularly when it comes to financing through a dealership. That is why you need to know and understand your credit score—so you can know what to expect when purchasing that new or used vehicle.
Credit Scores and Your Auto Loan Interest Rates
Typically, borrowers with high credit scores get the best interest rates, while those borrowers with low credit scores typically receive higher interest rates. In the chart below from Experian you can see the FICO score ranges and what they mean for people who are applying for loans, including auto loans.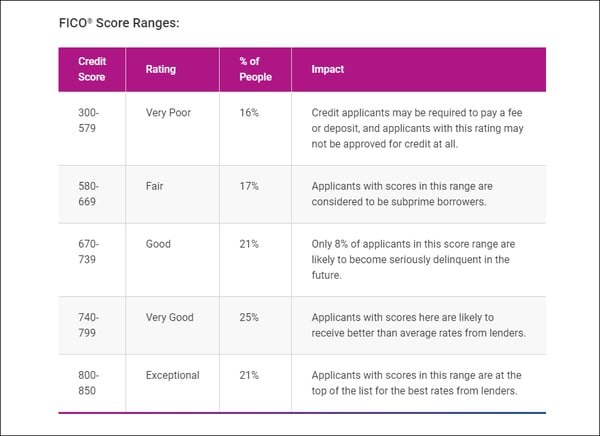 If your credit score is in the Exceptional to Very Good range, it is highly likely that you will receive a lender's lowest interest rate, which is great, because you will pay a lower amount of interest over the life of the loan.
If your credit score is in the Good or Fair range, you are pretty much right in the middle, so you won't receive the best lowest interest rate, or the highest interest rate, but a rate right in between.
If your credit score is very poor, though, expect to pay a lender's highest rates.
Steps to Take Before You Even Look at a New or Used Car
First, know your credit score. If you are unsure, you can request a credit report of each of the three credit bureaus, Experian, Equifax and TransUnion, once a year. First Alliance Credit Union also provides its members their free credit score, available in both the online and mobile banking app.
Once you know your credit score, reach out to your financial institution to work with a lender to be pre-approved for an auto loan. This way, you will know how much car you can afford, what your interest rate will be, and what your monthly payment will be. A down payment may also end up being an option, as opposed to financing the entire vehicle amount. This will also give you leverage with the dealer.
Steps to Take if You Need to Improve Your Credit Score
After you've found your credit score, if it needs improvement, make sure that you:
Pay all of your bills on time each month and avoid late payments whenever possible
Keep your credit balances low to your credit limits. If you have credit card debt, make it a priority to get those balances paid down
Don't open any new credit unless you really need to
Work with your lender to help you set up a plan to boost your credit score
At the End of the Day
If you have Exceptional or Very Good credit, finding the best deal on a new or used vehicle will be pretty easy. If your score needs improvement it's best to hold off if you can on buying a vehicle until your score has increased to a point where you know you will receive a better interest rate. You may want to also consider a down payment on the vehicle. This will help reduce the risk to the lender at the time of the loan. Plus, you will be borrowing less for the vehicle overall, thus lowering your payment further.