If you've used credit in the past, you probably have a credit score. What is a credit score? It's a number that reflects how you've managed your debt, in essence a character reference for your spending habits.
When you apply for a vehicle loan, mortgage or other type of financing, the lender will probably consider your credit score before making a decision.
Credit scores generally range from 300 to 850, with higher numbers being better. Having a better number could mean you're offered a lower interest rate on a loan. A poor score could mean you'll need to work on improving your credit before you can be approved for financing. There are many different credit scoring companies, but most lenders, including First Alliance Credit Union, use models developed by Fair Isaac Corp., known as FICO scores.
Do you know what it will take to pay off your credit cards?
Use our free calculator to find out.
How Credit Scores Are Created
Your FICO score is built based on your credit history. The information on your report that gets the most weight is your payment history (35% of the total score). This reflects your track record of repaying debts and includes information from public records, such as bankruptcies, foreclosures and liens, which could all negatively affect your score.
You can get a free copy of your credit report each year from each of the three major credit reporting bureaus (Equifax, TransUnion and Experian) through AnnualCreditReport.com. Take advantage of the free reports and inspect them for any errors that could be dragging down your score.
The second biggest factor in your FICO score is the amount you owe on existing credit, compared with your borrowing limits (30% of the total). To help improve this category, keep your balances low and don't max out your credit cards.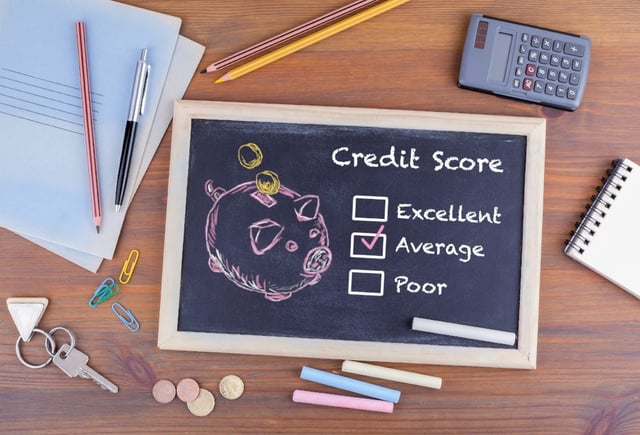 The Parts of a Credit Score
Length of credit history (15%). Generally, the older your accounts, the better your score. But people who haven't had a credit history for very long can still have high scores, based on the strength of their other categories.

Types of credit in use (10%). This takes into account the different mix of credit you have, including credit cards, installment loans and mortgages. Your FICO score can increase if you have a good payment history with a combination of credit cards and installment loans.

New credit (10%). This is determined by how much of your credit was just recently opened, and how many credit inquiries have been made about you in a short period of time. Research shows that when people open several accounts in rapid succession, they're a greater credit risk.
How to Obtain Your Credit Score
You can get your FICO score number through myFICO, Fair Isaac's consumer site, for a small fee. You can also obtain your scores from each of the three major credit reporting bureaus. Each bureau may report a slightly different value, depending on how it applies the FICO formula and differences in its reports.
It's a good idea to check your FICO score at least once a year. Knowing this number can give you clues on how to improve your credit, and give you the confidence to know if you're ready to apply for a credit card, buy a home or obtain another type of loan.
Written content provided by Margarette Burnette, NerdWallet.