Establishing a savings account is the best way to help you financially deal with the uncertainties of life, such as job loss or medical expenses, and achieve your financial dreams, like paying for college, purchasing a car, traveling, buying a home or saving for retirement. Below are some simple ways to save and invest in your financial future.

Pay Yourself First
Always remember to pay yourself first. Depositing money into a savings account should take priority over any additional spending. Here are some ideas to help:
As you pay your monthly bills, set aside a deposit to your savings.
Ask your financial institution to automatically transfer money from your checking to your savings twice a month.
Request a direct deposit from your employer for a portion of your paycheck to be deposited into your savings account.
Consider using a prize linked savings account to make saving money more fun
Don't forget that for beginning savers, the answer to the question "How much money should I save each month?" is around 10% of each paycheck. Once you've gotten into the habit of saving, you can start to increase that amount by 1-2% each year until you get to at least 15%.
Create a Budget and Stick to It
Creating a budget and sticking to it will help you to make sure that you're not spending more than you earn and that you have the ability to save money every month. Ultimately, you should maintain a balance in your savings that would cover six to twelve months of your living expenses. Small amounts add up and a make a difference over time.
Take Advantage of Compounding Interest
A savings account with compounding interest will help your account balance grow. The interest that you earn on your savings account is added to the total balance of your account, which will result in more money earned, especially over the long term.
The chart below shows how your money can grow over time in a savings account: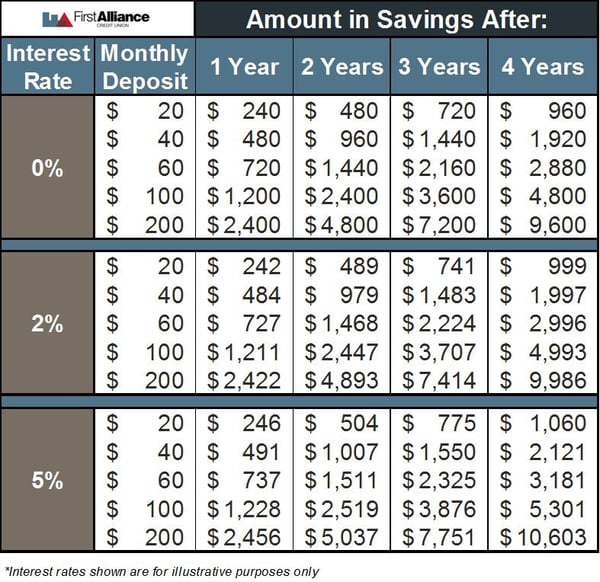 Invest Wisely
Investing is a great way to have your money work for you, but it comes with risk. Before you start investing, it is important to understand the different options and risks involved. Don't think that you are too young to invest. The best time to invest is when you are young, as you have more time for your investments to grow and weather the ups and downs of both the stock market and the economy.
Different investment options offer different rates of return. Generally, the higher rate of return has higher the chance of losing your investment (the lower rate of return, the lower the chance of losing your investment dollars). It all depends on your appetite for risk and your financial goals.
Types of Investments
Savings Accounts: Provide a safe way to save money and earn interest on the balance.
Money Market Accounts: Earn a higher interest rate than a traditional savings account, and typically have a minimum balance requirement. These accounts may also be tiered by balance. Meaning, the higher the balance, the higher the interest rate.
Certificate of Deposit (CD): Funds are placed into a Certificate of Deposit for a fixed period of time and fixed interest rate. There are typically early withdrawal penalties.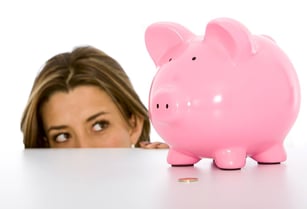 Stocks: Purchasing stocks allows you to buy part ownership of a company and you make money or lose money as the value of the stock increases or decreases depending on the stock market.
Mutual Funds: These are professionally managed funds that can include a combination of stocks and bonds with various risk factors.
Retirement Accounts and IRAs: Various options are available to invest for your future retirement needs. Remember that many employers offer 401(K), 403(B), or other type of retirement program and may even provide a match to your contributions. Take advantage of a contribution match any current or future employer provides. This match is provided as part of your compensation package and will help you meet your financial goals.
Make Your Investment Plan
You can being making your investment plan by following these steps:
Set your goals
Learning about investing and all of your options
Consider whether or not its time to consult a financial advisor
Make a plan
Stick to your plan-review your strategy once or twice a year. It's not necessary to make changes to your plan on a continuous basis.
Save and Invest With First Alliance Credit Union
Saving and investing takes patience and time. Once you have set clear and specific savings and investment goals, it's important to work your plan. Be sure to review your plan and your progress at least annually to make sure that you're on track to meeting your financial goals.
You can also get a boost on your saving and investing goals when you become a member of First Alliance Credit Union today. You can direct deposit money into our traditional savings accounts, come up with a budget using the free downloadable budget calculator in our resource center and even invest your money in an IRA or CD.
Want more information? Listen to episode 11 of our Good Money Moves podcast, which talks all about the importance of saving money.