Our newly upgraded Online Banking system comes with lots of excellent new features! To ensure you know how to use these features and feel comfortable navigating the updated system we have put together a series of blog posts to highlight these features and offer a few tips. A large part of your finances involves moving your money around between your accounts and paying other people. This article will share with you the best ways to transfer funds and make payments in the upgraded Online Banking system!
Drag and Drop Transfers:
When you first logged into Online Banking after the upgrade, the Accounts screen displays in "Tile View", where each of your accounts shows in separate tiles rather than in a list. When you are in Tile View you can initiate a funds transfer between your accounts by dragging and dropping the "from" account on to the "to" account. One word: AWESOME!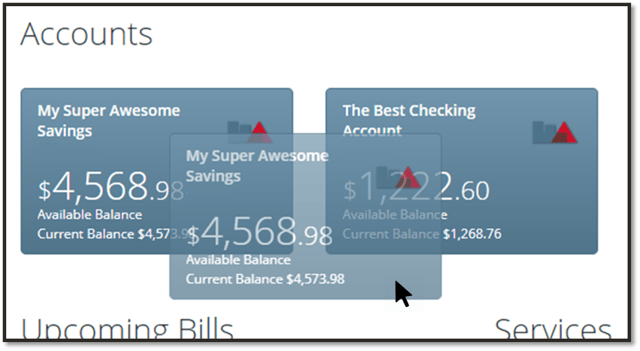 External Transfers:
It's no secret; we know you have accounts at other financial institutions. So to make it easier for you to manage your finances between First Alliance and your other financial institutions there is now a feature called External Account Transfer. This option can be found under the "Transfers" tab, the External Transfer link is on the right side of the screen. The first time you use this feature you will be required to verify your email address. Make sure you carefully enter the information of your other financial institution. You can set up one-time or recurring transfers to your other financial institutions.

External Transfer is a free service! However, it's important to note that you can only make external transfers to accounts where you are the owner, for example you will not be able to transfer to your mother's account at another financial institution. Your name has to be on the account. If you are looking for a way to pay other people keep reading!
Using Online Bill Pay:
Pay Bills
While Bill Pay is not a new feature to Online Banking, there is a new way to view and access your upcoming bills besides through the "Pay Bills" tab at the top of the screen. On the bottom of the Accounts screen, any eBills you have set up will show up here when you have unpaid bills. You can pay those bills from the Accounts screen by clicking "Pay Now" or click "Pay Any Bill" to access all of your billers. Bonus: You can now add billers within the Mobile Banking App either manually or with Bill Capture!
Pay People
If you have ever split an expense with a friend then the "Pay People" feature (a.k.a. Pop Money) is one you will want to check out! Pop Money eliminates the hassles of checks and cash by allowing you to send and receive money through emailing and texting. Plus, the person you are paying through Pop Money does not need to be a First Alliance member. Here are a few examples of when Pop Money could be used to make paying friends and family easier, instead of sending cash or check:
Send money to your child at college
Send a gift to family and friends
Reimburse friends for that fun outing
Pay your babysitter (or pet sitter).
Pay rent to your landlord or roommates
Manage Your Money Quicker and Easier With First Alliance
These options for transferring funds and making payments are just some of the cutting-edge online banking features you get when you become a member at First Alliance Credit Union. If you're a member, download our mobile app or go into our online banking account and check out all the online banking options at your disposal.
Ready for new financial partner that cares about your future?