Our Online Banking platform comes with lots of excellent features, including a few that are exclusive to our Mobile Banking App!
To ensure you know how to use these features and feel comfortable navigating the mobile app we have put together this page to highlight these features and offer a few tips. The First Alliance Mobile Banking App is free to download from Apple and Android app stores. Plus, new users no longer need to enroll through Online Banking first, simply download the app to get started using these awesome tools.
TouchID Enabled: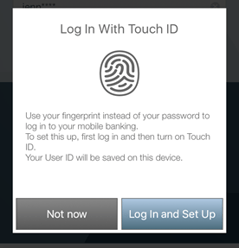 TouchIDTM allows you to log into your account through the Mobile App with a touch of your finger! No password to type in. TouchIDTM is not only an important security feature enhancement, but also more convenient. Currently this is only supported for Apple devices.
Once logged in, press the "More" tab to enable Touch ID.
Mobile Check Deposit:
While this is not a new feature to our Mobile App since the upgrade in June there were a few back-end technical updates to make this feature function even more seamlessly. Also it is always worth pointing out that this is one awesome feature! If you are not familiar with Mobile Check Deposit, this allows you to deposit a check by taking a photo of it from inside the app. It's quick and saves you time by skipping the line at the branch, and it's free to do. Next time you receive a check, give Mobile Deposit a try! Once logged in, press the "Deposit" tab to get started. Plus, check out the tutorial videos in our Resource Center.
Bill Capture: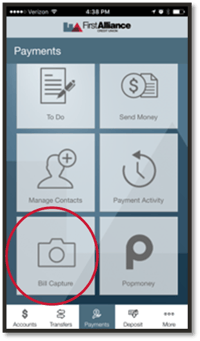 If you are a Bill Pay user this feature will "wow" you! Similar to Mobile Deposit, you take a photo of your paper billing statement from any biller and it automatically adds the bill into your Bill Pay account as a bill to be paid, or if it's a new biller, it will even add them to your list of Billers. Additionally, you can manually add new billers through the app. If you're not a Bill Pay user yet there is no time like the present to start using it, you will however need to login to your Online Banking account from a desktop computer to get enrolled in this free service first.

Instant Balance:
This feature is one of our favorites and deserves a shout out. No need to take time to log in just to check your balance, you can simply tap the instant balance button on the log in screen to see the current balances of your favorite accounts! Once logged in, press the "More" tab to enable Instant Balance.
Start Using Mobile Banking at First Alliance Credit Union Today!
Our Mobile Banking App features are all about saving you time and making managing your money more convenient. The First Alliance Credit Union Mobile Banking App is free to download from Apple and Android app stores. If you have questions or need help getting started with any of these online and mobile banking features do not hesitate to contact us!