At First Alliance Credit Union we are committed to keeping your financial information secure. Which is why we are pleased to announce that the credit union will begin offering a new free security service, Fraud Alert Text Message Notifications for debit card holders.
To take advantage of this new security service you will need to opt-in. During the week of January 29th you will receive a text message similar to the one shown here asking you to opt-in to the new service. The text message will come from the number 707-56 or 207-33 . To opt-in you will simply need to reply "YES" to the text message you receive.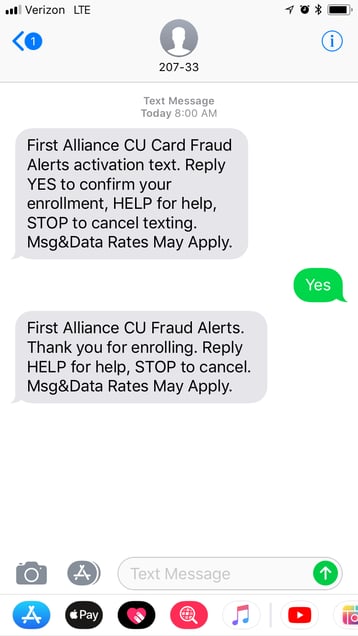 What does this service do exactly?
Opting into our free Fraud Alert Text Message Notification service allows our Fraud Prevention Center to send you a text message to alert you if there has been suspicious activity on your debit card. Normally, you would receive a phone call to alert you of this information.
What happens if I don't opt-in?
You will still receive notifications of potential fraud on your debit card via a phone call from our Fraud Prevention Center. The phone number the fraud notification calls will come from will always begin with 877-253-XXXX; you will be given a case number during this phone call. However, if you do not answer this call when it comes in, for your security your debit card could be turned off until we can contact you to verify the card's activity.
What if I don't have a current cell phone number on file at the credit union?
If you are unsure of what phone number(s) you have on file with First Alliance, we strongly encourage you to contact us to update your contact information and provide us with an accurate cell phone number prior to January 29th to ensure you receive the opt-in text message. If you simply do not have a cell phone with text message capabilities you will continue to receive phone calls to alert you of potential fraud.
Again, your financial security is extremely important to us. If you have any questions about this information please do not hesitate to contact us.