One of the scariest things you can hear in the twenty-first century is that your personal information may have been compromised in a data breach. At best, this means that your risk of identity theft has gone up exponentially. At worst, scammers are already trying to use your information in their schemes.
However, just because your personal information may have been stolen doesn't mean you need to be a victim. You can make stealing your identity significantly harder for scammers by taking a few steps.
Here's how to protect your personal information after a data breach: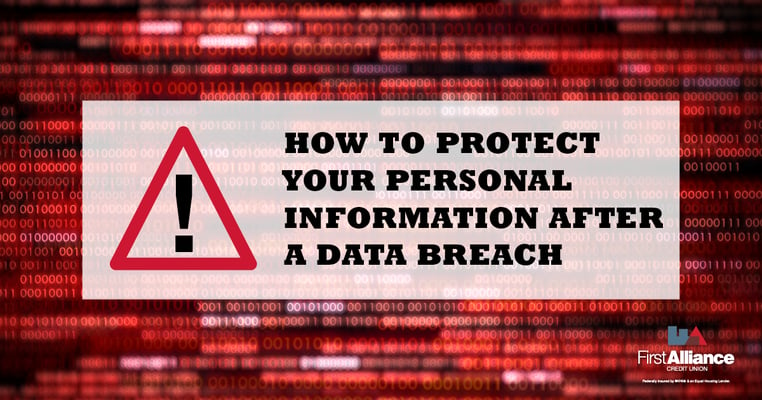 Freeze Your Credit
The best way to protect yourself is to call the big three credit bureaus—Equifax, Experian and TransUnion—and put a credit freeze on your account. This essentially means no one will be able to open a new checking or savings account in your name until you lift the freeze. It's a free service to all consumers, and you can keep the credit freeze in place as long as you like.
Put a Password on Your Account
Put a password on your account if you don't have one already. Once you've created your password, any transactions via telephone will require the password in order to be completed. For your security, you'll have to visit one of our branches to set up your password.
Put Limits on Your Cards
Use the My Cards feature on the First Alliance mobile app to put limits on where your cards can be used. If you don't want to set limits on where your card can be used, you can also set spend limits on each transaction and even what types of items you can buy with your debit and credit card.
Get the First Alliance mobile app today!
Make Sure Your Driver's License is on File
Make sure your driver's license or other ID card is on file with First Alliance. That way, our member experience advisors can quickly identify you if we need to pull up your account.
Check Your Statements
Review your eStatements and credit card statements regularly and report any unusual activity immediately. If you don't want to wait for your eStatements, you can immediately check your account for unusual activity by logging into our online bank account or mobile app.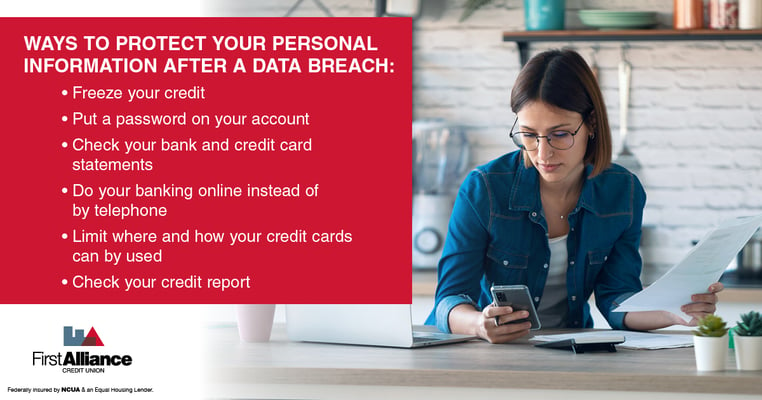 Do Your Banking Online Instead of by Telephone
Use your online bank account for remote banking rather than the telephone. Our online banking security measures are extremely strong. If you aren't an online banking user, contact us and we can help you get started.
Check Your Credit Report
Get a free credit report at https://www.annualcreditreport.com and review it for unusual activity. If you want to be really thorough, you can also call Experian, Equifax and TransUnion. By law, you can get a free copy of your credit report from each agency every year that you can examine for unusual activity and inconsistencies.
Got questions about protecting your personal identity? Ask us!
Keep Your Data Safe with First Alliance Credit Union
No one wants to hear that their personal information may be at risk due to a data breach. Fortunately, you can take several steps that will make it hard for scammers to use your personal information. You can limit when and where your credit and debit cards can be used, regularly check your online bank account for suspicious activity and you can even put a credit freeze on your account to prevent anyone from opening a new bank account or getting a new credit card in your name.
If you want additional protection from scammers and identity thieves, become a member of First Alliance Credit Union today. In addition to the security measures we have in place on all members accounts, you can also use the free resources and information on our website to help you understand and deal with identity theft.