ROCHESTER, MN ― First Alliance Credit Union is pleased to announce it was voted as the Best Financial Institution in the KTTC Fan Favorite Awards for the third year in a row. This award is presented to one business for each of the 68 industry categories.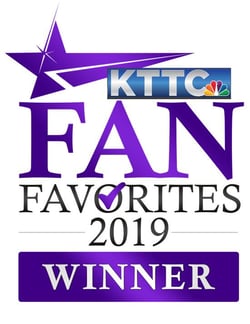 To be considered as a category candidate businesses must first be nominated and are then voted for by KTTC's regional and local television viewers, as well as the news stations website visitors. KTTC began honoring local business with the Fan Favorites Awards in 2017. This year a total of 13 other banks and credit unions were nominated for the financial institution category, with First Alliance Credit Union voted the winner. Think Mutual Bank and Merchants Bank were finalists in the category.
Commenting on the achievement, Mike Rosek, President/CEO of First Alliance Credit Union noted, "We want to thank our members for their votes, it speaks volumes that we have so many that believe we are the best place for their finances in the Rochester, MN area. We will always do everything possible to merit the trust they have shown in First Alliance Credit Union."
About First Alliance Credit Union:
First Alliance Credit Union is the original credit union in Rochester, Minnesota, founded in 1932 by seven Rochester firefighters. Membership is open to everyone who lives, works, worships, owns a business, or attends school in Olmsted, Winona, Wabasha, Dodge and Goodhue counties.
---