First Alliance Credit Union announced Monday, March 11th, 2019 that they have purchased land in the fast growing area just off of West Circle Drive North West in Rochester, near Costco. The credit union has plans to build a new full service branch at the location which is slated to open in the summer of 2020.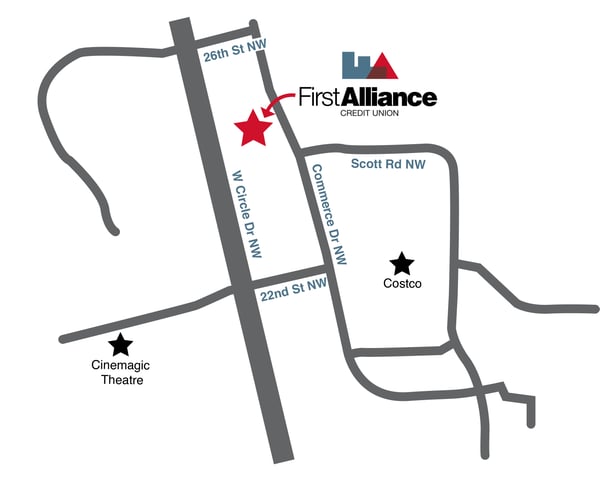 Commenting on the land purchase is Mike Rosek, President/CEO of First Alliance Credit Union:
"We are absolutely thrilled to be able to share our plans for our new branch with the Rochester community. We have been looking for a convenient branch location in North West Rochester and we are making good on that commitment to our membership."
First Alliance Credit Union currently serves over 16,000 people in South East Minnesota with two Rochester branch locations one at 320 Alliance Place NE off of 37th Street NE near the old Shopko, and one located at 501 16th Street SE just past the Olmsted County fairgrounds. The credit union also has a branch in Byron, MN and one coming in September 2020 in Stewartville MN.
As of June 1st 2020 the First Alliance Commons building is open 7 days a week at 2483 Commerce Drive North West Rochester MN 55901. The credit union building features a Moka and Great Harvest Bread Company. Welcome to convenience, personalized.
About First Alliance Credit Union
First Alliance Credit Union is the original credit union in Rochester, Minnesota, founded in 1932 by Rochester firefighters and a school teacher. Membership is open to everyone who lives, works, worships, owns a business or attends school in Olmsted, Winona, Wabasha, Dodge and Goodhue counties. Depositing $5 into a savings account is all it take to join the credit union and become a member!