Often people think that the the only way to open an account at First Alliance Credit Union is to come into a physical branch. A few years ago, we introduced online account opening, to make opening an account at First Alliance Credit Union simple and easy, so that prospective members can open an account online from virtually anywhere.
Existing members can use the same tool to open additional checking, savings and money market accounts from with Online Banking.
Prospective members can open a savings and a checking account online in five to ten minutes. We ask for basic information, such as your driver's license number, date of birth, social security number and then we ask some questions about your credit report, that only you would know. We do this as an added security feature to make sure you are who you say you are.
---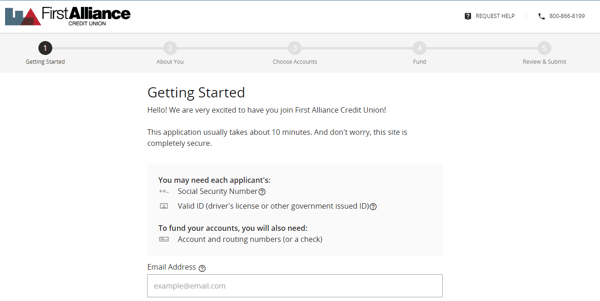 ---
Of course there are a bunch of disclosures that need to be "reviewed", (yes, we know that most people don't actually read them). Once that is completed the application you have the ability to fund your account right away! Easy.
A day or so later, you will hear from a Member Advisor who will call just to check in, make sure we get your debit card or checks ordered, get you set up with online banking, and answer any questions you may have.