We know managing your finances through convenient and secure methods is an important part of your financial life. This is why we stress the importance of enrolling in our free eStatement service. eStatements allows you to keep your monthly account statements in a digital format, which is easy to access through Online Banking and offers more security than paper statements. However, if you're used to receiving your statement in the mail each month, you may have a few questions about eStatements you want answered before you enroll.
How does eStatements work?
Instead of receiving a paper copy of your monthly statement of accounts in the mail, an electronic copy of your statement is available within your Online Banking portal at First Alliance Credit Union. The electronic copy, or "eStatement," is identical to the statement you would receive in the mail. Your eStatement will usually be available by the third day of the every month, and you will receive an email notification when your monthly statement is ready for you to review.
How Do You Enroll in eStatements?
Enrolling in eStatements is so fast and easy you can do it in less than 3 minutes. There are NO additional usernames or passwords to remember.
Simply follow these four steps to enroll in eStatements:
Login to your First Alliance Online Banking account
Click on any one of your account tiles
Click on the "Online Statements" link on the right
Accept the Terms and Conditions

That's it! If you don't have an Online Banking account already, though, you will need to enroll first. This is also an easy, quick process. You can learn more about enrolling in Online Banking here.
How Do I Access eStatements Once I'm Enrolled?
To access your monthly statements after you have enrolled, simply click one of your account tiles and then click "Online Statements" (see above image). You will likely see a pop-up that looks like the one below. Simply click "continue" to proceed to your eStatements.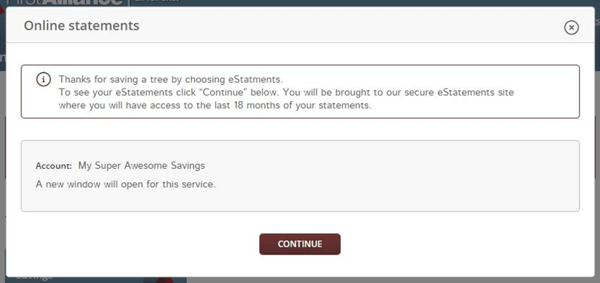 Does Enrolling in eStatements Cost Money?
eStatements are free to enroll in and use. There are no fees or service charges involved. It's 100% FREE!
What If I Need a Printed Copy of My Statement?
If you need a paper copy of your statements for any reason you can quickly and easily print them off from within Online Banking. You can also download copies of your statements for easy offline viewing anytime. Just make sure you store them in a secure place.

How Many Months of Statements Will I Have Access To With eStatements?
From the moment you enroll you will automatically have access to the last 18 months' worth of your monthly statements. If you need to have copies of your statements from farther back than 18 months, please contact us.
Are eStatements Safe to Use?
Yes. eStatements are far more secure than paper statements. Paper statements are easily intercepted by identity thieves and can often be delivered to the incorrect address, especially if you have recently moved. eStatements require access to your Online Banking account, which means it would be very difficult for identity thieves to access due to our high level of security.
Can I Access My eStatements from the Mobile App?
Unfortunately access to eStatements is not currently a feature of our free Mobile Banking app, however our Online Banking portal is mobile friendly! So you can still quickly and conveniently view your eStatements on your phone or tablet. You can see the steps to access your eStatments on a mobile device here.
Summary of the Benefits of eStatements:
As you may understand by now eStatements come with a many benefits. Here's a quick recap of the advantages of enrolling in eStatements:
Faster Availability: Rather than waiting for you statement to be printed and mailed, which can take weeks. You'll receive an email immediately notifying you when your eStatement is ready, usually by the third of the month (even if it's a weekend!).
Convenient Access: Access your statements anywhere you have internet access, anytime you want or need to. Plus, you can download or print your eStatements for easy offline viewing.
Better Security: Having your statement stored electronically protects your information from being stolen or lost in the mail. Since your eStatements are secured by your online banking login credentials, your statements can only be accessed by you.
Simple Sign-Up: Enrolling in eStatements couldn't be easier, simple login to Online Banking and accept the terms and conditions from your accounts page. That's it!
Eco-friendly: Replacing your multi-page paper statement with an electronic version saves trees and reduces greenhouse gases associated with paper manufacturing, printing, and mailing.
Less Clutter: Give yourself less paperwork to sort through. Your online eStatement account acts as a digital filing cabinet, so your statements will always be organized and easy to locate. You'll never misplace your statements again or need to worry about properly disposing of them.
Saves Money: Because credit unions are not-for-profit financial institutions, the savings the credit union received from not having to pay for the printing and mailing of paper statements every month is passed back to you, our member, in the form of fewer fees, higher deposit rates, and lower loan rates. It's a win-win for our entire First Alliance family!
Still have questions about eStatements?
We are happy to answer any additional questions you might have about eStatements at First Alliance Credit Union. Simply call us at 507-288-0330. We are here to help you get the most out of your First Alliance membership.
Need help with your accounts? Let's talk!